Alexander Rodtschenko - Konstruktive Formen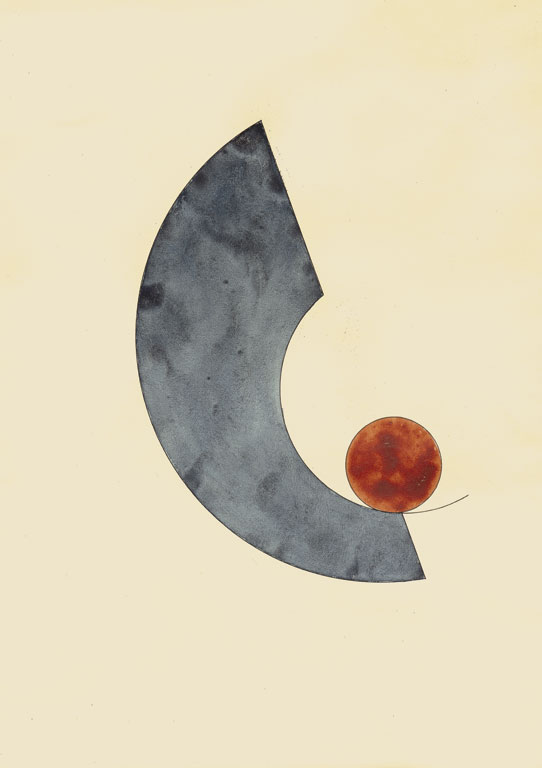 Konstruktive Formen, 1918
Aquarell und Tusche auf Papier
27 x 20 cm
Stiftung Im Obersteg, Depositum im Kunstmuseum Basel
Inv. Im 1471
Zurzeit nicht ausgestellt
Alexander Rodchenko was an exponent of Constructivism, a key tendency of the Russian avant-garde. His creative evolution made him an early champion of a heavily geometric and nonrepresentational style in painting and later even led him to an artistic vision motivated solely by technical and functional aspects. This watercolor shows a pictorial object held in dynamic equilibrium; a gray circular segment, an arced line that constitutes its virtual extension, and a red sphere coalesce in the depiction of an unstable curved form whose slight inclination suggests a seesawing motion.
Aufsatz Vera Heuberger, PDF, 90 KB
Provenance
1973 erworben bei der Galerie Gmurzynska, Köln, von Jürg Im Obersteg
Literature
Baumgartner/von Tavel 1995
Michael Baumgartner und Hans Christoph von Tavel: Die Sammlung Karl und Jürg Im Obersteg, hrsg. von der Stiftung «Sammlung Karl und Jürg Im Obersteg», Bern, Bern: Benteli Verlag, 1995, S. 147-149, Nr. 90, Abb.
Exhibitions
Wien 2003
Im Banne der Moderne: Picasso, Chagall, Jawlensky, BA-CA Kunstforum, Wien, 4. Sept.-30. Nov. 2003, Nr. 60

Basel 2004
Die Sammlung Im Obersteg im Kunstmuseum Basel. Picasso, Chagall, Jawlensky, Soutine, Kunstmuseum Basel, 14. Febr.-2. Mai 2004, hrsg. von der Stiftung Im Obersteg, Basel: Schwabe Verlag, 2004, Nr. 156