Alexej von Jawlensky - Abstrakter Kopf: Abend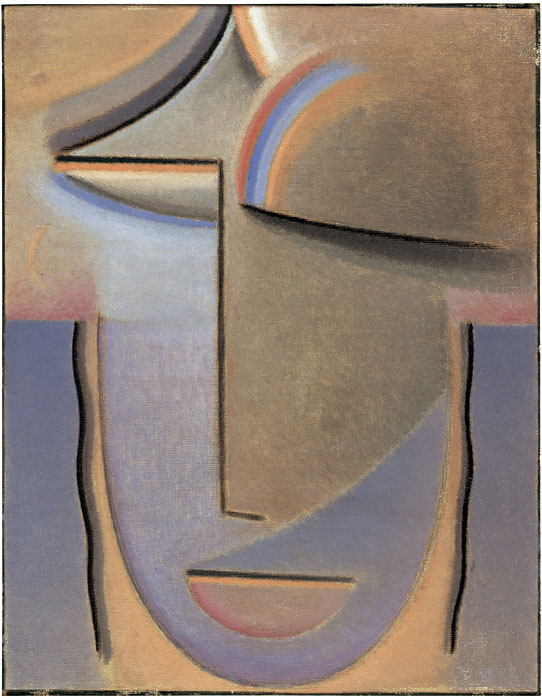 Abstrakter Kopf: Abend, 1927
Öl und Kohle auf leinenstrukturiertem Malkarton
43 x 33,5 cm
Stiftung Im Obersteg, Depositum im Kunstmuseum Basel
Inv. Im 1261
Ausgestellt: Kunstmuseum Basel
With his Abstract Heads Jawlensky translated physiognomy into a geometric vocabulary that, over almost fifteen years, evolved in a series of around 1300 works. The contour of the head forms a large U; the mouth describes a horizontal line, the lower lip a segment of a circle; the eyes, almost always closed, describe a level or slightly descending line; the nose is vertical, ending in a right angle; the hair falls to the right and left of the U as lightly curving lines. An upwardly oriented form characterizes the top of the head. Within this strict pattern, the colors that vary from picture to picture describe geometric fields. Its stylization makes the face appear like that of a flat mask with no individual expression.
Provenance
1928 (Weihnachten) erworben beim Künstler von Karl Im Obersteg
Literature
Weiler 1959
Clemens Weiler: Alexej Jawlensky, Köln: Verlag M. DuMont Schauberg 1959, Nr. 318, Abb. S. 250

Jawlensky 1991/1998
Maria Jawlensky, Lucia Pieroni-Jawlensky, Angelica Jawlensky: Alexej von Jawlensky. Catalogue Raisonné, 4 Bde., London: Sotheby's Publications 1991-1998, Bd. 2, S. 403, Nr. 1264, Abb. S. 426

Baumgartner/von Tavel 1995
Michael Baumgartner und Hans Christoph von Tavel: Die Sammlung Karl und Jürg Im Obersteg, hrsg. von der Stiftung «Sammlung Karl und Jürg Im Obersteg», Bern, Bern: Benteli Verlag, 1995, S. 113-115, 118, Nr. 64, Abb.
Exhibitions
Dresden 1928
Paul Klee - A. v. Jawlensky, Galerie Neue Kunst Fides, Dresden 1928, Nr. 13

Basel 1933
Moderne deutsche Malerei aus Privatbesitz, Kunsthalle Basel, 7.-29. Okt. 1933, Basel, 1933, S. 2, Nr. 37

Bern 1975
Sammlung Im Obersteg, bearb. von Hugo Wagner, hrsg. von Kunstmuseum Bern, 25. Juni-14. Sept. 1975, Nr. 50, Abb.

Wien 2003
Im Banne der Moderne: Picasso, Chagall, Jawlensky, BA-CA Kunstforum, Wien, 4. Sept.-30. Nov. 2003, Nr. 39

Basel 2004
Die Sammlung Im Obersteg im Kunstmuseum Basel. Picasso, Chagall, Jawlensky, Soutine, Kunstmuseum Basel, 14. Febr.-2. Mai 2004, hrsg. von der Stiftung Im Obersteg, Basel: Schwabe Verlag, 2004, Nr. 108