Alexej von Jawlensky - The Mother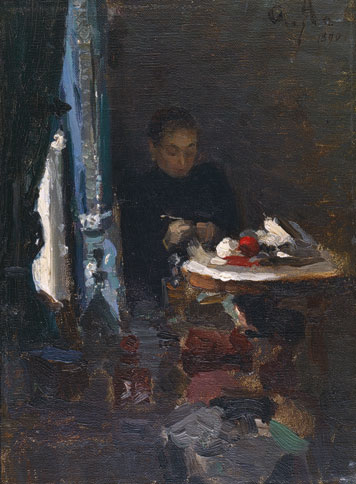 The Mother, 1890
Öl auf Leinwand, auf Karton aufgezogen
24 x 18 cm
Sammlung Im Obersteg, Depositum im Kunstmuseum Basel
Inv. Im 1241
Zurzeit nicht ausgestellt
The small-format oil painting shows the artist's mother sitting by a round table and busying herself with needlework. The intimate interior scene shows that the artist has absorbed the lessons of Impressionism, with dramatic chiaroscuro effects and rough brushwork. Jawlensky created it in Saint Petersburg, years before he left Russia for good in 1896, settling in Munich with Marianne von Werefkin.
Provenance
1933 (16.6.) erworben beim Künstler von Karl Im Obersteg
Literature
Weiler 1959
Clemens Weiler: Alexej Jawlensky, Köln: Verlag M. DuMont Schauberg 1959, Nr. 1, Abb. S. 27

Jawlensky 1991/1998
Maria Jawlensky, Lucia Pieroni-Jawlensky, Angelica Jawlensky: Alexej von Jawlensky. Catalogue Raisonné, 4 Bde., London: Sotheby's Publications 1991-1998, Bd. 1, S. 41, Nr. 1, Abb. S. 49

Baumgartner/von Tavel 1995
Michael Baumgartner und Hans Christoph von Tavel: Die Sammlung Karl und Jürg Im Obersteg, hrsg. von der Stiftung «Sammlung Karl und Jürg Im Obersteg», Bern, Bern: Benteli Verlag, 1995, S. 88-90, Nr. 44, Abb.
Exhibitions
Bern 1957
Alexej von Jawlensky, Kunsthalle Bern, 11. Mai-16. Juni 1957, Bern 1957, Nr. 1 (Interieur)

Bern 1975
Sammlung Im Obersteg, bearb. von Hugo Wagner, hrsg. von Kunstmuseum Bern, 25. Juni-14. Sept. 1975, Nr. 32, Abb.

Wien 2003
Im Banne der Moderne: Picasso, Chagall, Jawlensky, BA-CA Kunstforum, Wien, 4. Sept.-30. Nov. 2003, Nr. 23

Basel 2004
Die Sammlung Im Obersteg im Kunstmuseum Basel. Picasso, Chagall, Jawlensky, Soutine, Kunstmuseum Basel, 14. Febr.-2. Mai 2004, hrsg. von der Stiftung Im Obersteg, Basel: Schwabe Verlag, 2004, Nr. 88