Alexej von Jawlensky - Kind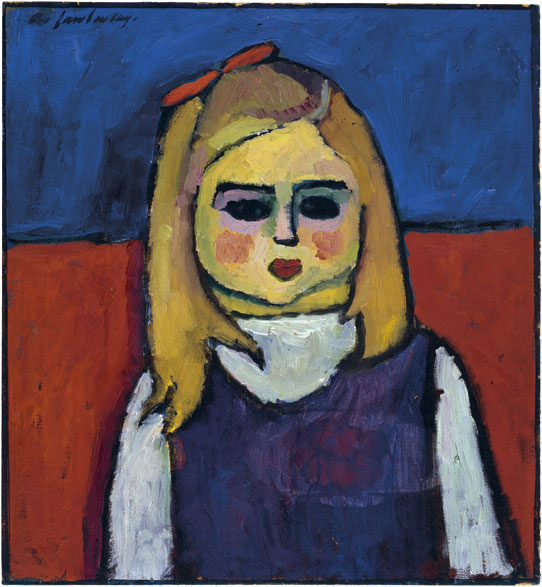 Kind, um 1909
Öl und Tempera auf leinenstrukturierter Malpappe
53.5 x 50 cm
Sammlung Im Obersteg, Depositum im Kunstmuseum Basel
Inv. Im 1244
Ausgestellt: Kunstmuseum Basel
The girl is reproduced frontally against a red-blue background. Her features show typically childlike characteristics: large dark eyes encircled in purplish and greenish eye shadow, light red cheeks, a small mouth closed in the form of a heart, which is repeated in the form of the face. The dark blonde, shoulder-length hair configures into weighty color planes. A cheeky color-repetitive red hair ribbon glows. The narrow torso is enclosed in a white blouse and a contrastingly dark violet dress. At the girl's chest level we can distinguish traces of a background of round forms within a lighter oval. This is what is left of the depiction of a bowl of fruit that the artist dismissed.

Alexej von Jawlensky had lived in Munich since 1986, where he became friends with Wassily Kandinsky. The artists were searching for new paths in painting that led away from the pure copy of nature and toward a synthesis of what the eyes could see. Forms were simplified, the colors used unmixed. Their influential models were Henri Matisse and Paul Gauguin. Their influence can be seen in the fauvist coloring and the contours in black. Jawlensky's intense thematic engagement with the human face began in Munich with expressionist portraits such as Kind and peaked in the de-individualized series of Abstract Heads that are highly differentiated as to color.
Provenance
1952 erworben bei Helene Jawlensky als Schenkung für die Übernahme der auf dem Konvolut lastenden Schulden von Karl Im Obersteg
Literature
Weiler 1959
Clemens Weiler: Alexej Jawlensky, Köln: Verlag M. DuMont Schauberg 1959, Nr. 59, Abb. S. 230

Jawlensky 1991/1998
Maria Jawlensky, Lucia Pieroni-Jawlensky, Angelica Jawlensky: Alexej von Jawlensky. Catalogue Raisonné, 4 Bde., London: Sotheby's Publications 1991-1998, Bd. 1, S. 166, Nr. 193 (dat. um 1908), Abb. S. 174

Baumgartner/von Tavel 1995
Michael Baumgartner und Hans Christoph von Tavel: Die Sammlung Karl und Jürg Im Obersteg, hrsg. von der Stiftung «Sammlung Karl und Jürg Im Obersteg», Bern, Bern: Benteli Verlag, 1995, S. 94-96, Nr. 47, Abb.
Exhibitions
Bern 1975
Sammlung Im Obersteg, bearb. von Hugo Wagner, hrsg. von Kunstmuseum Bern, 25. Juni-14. Sept. 1975, Nr. 35, Abb.

Wien 2003
Im Banne der Moderne: Picasso, Chagall, Jawlensky, BA-CA Kunstforum, Wien, 4. Sept.-30. Nov. 2003, Nr. 26

Basel 2004
Die Sammlung Im Obersteg im Kunstmuseum Basel. Picasso, Chagall, Jawlensky, Soutine, Kunstmuseum Basel, 14. Febr.-2. Mai 2004, hrsg. von der Stiftung Im Obersteg, Basel: Schwabe Verlag, 2004, Nr. 91