Alexej von Jawlensky - Selbstbildnis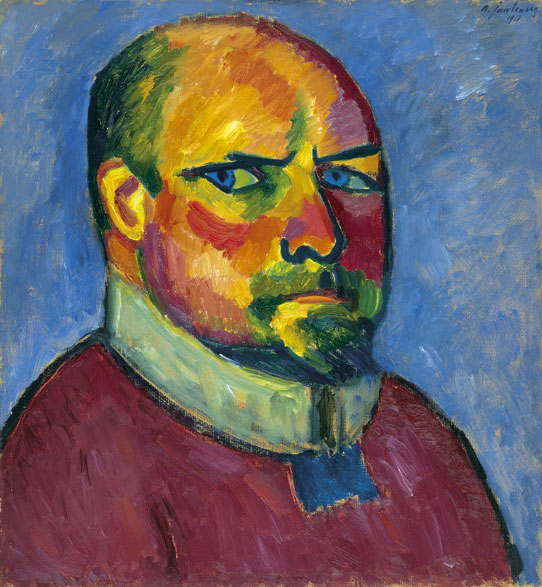 Selbstbildnis, 1911
Öl auf Malkarton
54 x 51 cm
Stiftung Im Obersteg, Depositum im Kunstmuseum Basel
Inv. Im 1245
Zurzeit nicht ausgestellt
Jawlensky's engagement with the human countenance is characteristic of his entire oeuvre but is strangely only expressed seven times in self-portraits. Four of them were done in 1911/1912, one of which is in the Im Obersteg Collection. It is the first of this series and was painted 1911 in Prerow on the Baltic Sea.
The picture is almost square in format and shows us the block-like bust of the artist in three-quarter profile at the age of 47. The face is made up of willful planes of color. The beard and hair in contrasting green-yellow stand out against the red-orange face. The mouth thinned to a line and the blue eyes under drawn-together brows show determination. The round head rests on a stand-up collar like a pillar, as if intending an impression of force and stability. Shoulders and upper body in a red robe are encircled in a black outline and form a closed-off, solid base. Behind the artist's powerful presence, here shown without his painting utensils, the monochrome blue background appears like a sky.

Jawlensky was now a recognized artist who, via his contact to Henri Matisse, found his way to new colors. He had met Matisse personally in 1905 in Paris and, through the study of his works, became familiar with the possibility of color orchestration freed from any motif, which served the direct expression of emotion. In addition, the simplification of forms and the arrangement of modulated color spots show that he had also come to grips with Paul Cézanne's doctrines and paintings.
Provenance
1928 (Weihnachten) erworben beim Künstler von Karl Im Obersteg
Literature
Weiler 1959
Clemens Weiler: Alexej Jawlensky, Köln: Verlag M. DuMont Schauberg 1959, Nr. 89, Abb. S. 169

Weiler 1970
Clemens Weiler: Alexej Jawlensky. Köpfe - Gesichte - Meditationen, Hanau: Peters 1970, S. 112

Jawlensky 1991/1998
Maria Jawlensky, Lucia Pieroni-Jawlensky, Angelica Jawlensky: Alexej von Jawlensky. Catalogue Raisonné, 4 Bde., London: Sotheby's Publications 1991-1998, Bd. 1, S. 299, Nr. 378, Abb. S. 302

Baumgartner/von Tavel 1995
Michael Baumgartner und Hans Christoph von Tavel: Die Sammlung Karl und Jürg Im Obersteg, hrsg. von der Stiftung «Sammlung Karl und Jürg Im Obersteg», Bern, Bern: Benteli Verlag, 1995, S. 98, Nr. 49, Abb.

Affentranger 2000
Angelika Affentranger-Kirchrath: Jawlensky. Das andere Gesicht. Begegnungen mit Arp, Hodler, Janco, Klee, Lehmbruck, Richter, Taeuber-Arp, Bern: Benteli Verlag 2000, S. 233, Abb. S. 20
Exhibitions
Basel 1957
Alexej von Jawlensky 1864-1941, Galerie Beyeler, Basel 1957, Nr. 28

Bern 1975
Sammlung Im Obersteg, bearb. von Hugo Wagner, hrsg. von Kunstmuseum Bern, 25. Juni-14. Sept. 1975, Nr. 37, Abb.
Bern 1986/1987
Der Blaue Reiter, Kunstmuseum Bern, 21. Nov. 1986-15. Feb. 1987, hrsg. von Hans Christoph von Tavel, 1986, Nr. 17, Abb. S. 33

Essen 1998
Alexej von Jawlensky: die wiederaufgefundenen Aquarelle. Das Auge ist der Richter: Aquarelle, Gemälde, Zeichnungen, Museum Folkwang, Essen 1998, hrsg. von Georg-W. Költzsch und Michael Bockemühl, Essen 1998, Nr. 17, Abb. S. 124

Riehen 2000
Farbe zu Licht, Fondation Beyeler, Basel, 16. Apr.-30. Juli 2000, mit Beiträgen von Ernst Beyeler, Reinhold Hohl und Markus Brüderlin, hrsg. von Fondation Beyeler, Ostfildern-Ruit: Hatje Cantz Verlag, 2000, S. 164, Nr. 30, Abb. S. 67

Wien 2003
Im Banne der Moderne: Picasso, Chagall, Jawlensky, BA-CA Kunstforum, Wien, 4. Sept.-30. Nov. 2003, Nr. 28

Basel 2004
Die Sammlung Im Obersteg im Kunstmuseum Basel. Picasso, Chagall, Jawlensky, Soutine, Kunstmuseum Basel, 14. Febr.-2. Mai 2004, hrsg. von der Stiftung Im Obersteg, Basel: Schwabe Verlag, 2004, Nr. 94