Amedeo Modigliani - Madame Dorival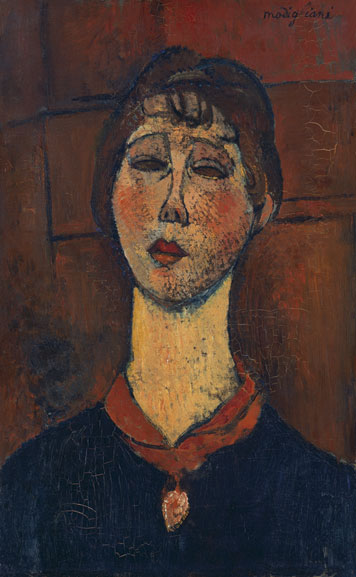 Madame Dorival, um 1916
Öl auf Leinwand
61 x 38 cm
Stiftung Im Obersteg, Depositum im Kunstmuseum Basel
Inv. Im 1361
Zurzeit nicht ausgestellt
Portrait de Madame Dorival was likely painted around 1916 and shows the wife of Georges Lenormand, an actor at the Comédie Française, whose stage name was Dorival. Many of the portraits the artist created between 1914 and 1920 represent well-known figures on the cultural scene of the time—artists, poets, actors, and art dealers. This painting is informed by Modigliani's studies in sculpture, to which he had dedicated himself between 1911 and 1913 after encountering the work of Constantin Brancusi. In his paintings no less than his plastic art, the Modigliani of this period emphasized the stereometric features of faces and bodies and modeled clearly delimited volumes. In this particular work, a raw pictorial surface serves to accentuate the tactile quality of the physiognomy. The eyes without pupils, a hallmark of many of Modigliani's portraits, enhance the statuesque effect.
Aufsatz Matthias Fischer, PDF, 133 KB
Provenance
1949 erworben bei der Galerie M. Rousso, Paris, von Karl Im Obersteg
Literature
Piccioni 1970
Leone Piccioni: I dipinti di Modigliani, Apparati critici e filologici di Ambrosio Ceroni (Reihe: Classici dell'Arte), Mailand 1970, Nr. 122, Abb. S. 94

Baumgartner/von Tavel 1995
Michael Baumgartner und Hans Christoph von Tavel: Die Sammlung Karl und Jürg Im Obersteg, hrsg. von der Stiftung «Sammlung Karl und Jürg Im Obersteg», Bern, Bern: Benteli Verlag, 1995, S. 72-74, Nr. 28, Abb.
Exhibitions
Bern 1955
Modigliani, Campigli, Sironi, Kunsthalle Bern, 1955, Bern 1955, Nr. 16

Bern 1975
Sammlung Im Obersteg, bearb. von Hugo Wagner, hrsg. von Kunstmuseum Bern, 25. Juni-14. Sept. 1975, Nr. 63, Abb.

Paris 2002/2003
Modigliani. L'ange au visage grave, Musée du Luxembourg, Paris 2002-2003, hrsg. von Marc Restellini, Genf, Mailand: Skira, 2002, S. 250, Abb. S. 251

Wien 2003
Im Banne der Moderne: Picasso, Chagall, Jawlensky, BA-CA Kunstforum, Wien, 4. Sept.-30. Nov. 2003, Nr. 51

Basel 2004
Die Sammlung Im Obersteg im Kunstmuseum Basel. Picasso, Chagall, Jawlensky, Soutine, Kunstmuseum Basel, 14. Febr.-2. Mai 2004, hrsg. von der Stiftung Im Obersteg, Basel: Schwabe Verlag, 2004, Nr. 131