André Derain - Nature morte au broc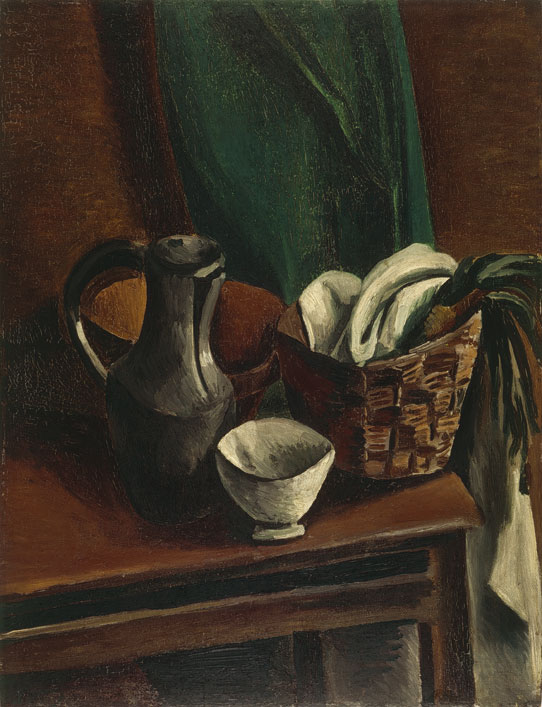 Nature morte au broc, 1912
Öl auf Holz
70 x 54 cm
Stiftung Im Obersteg, Depositum im Kunstmuseum Basel
Inv. Im 1151
Zurzeit nicht ausgestellt
A few portraits by Marc Chagall aside, Nature morte au broc is the only work in the Im Obersteg Collection in which we may recognize intimations of the formal idiom of Cubism. After the colorful intensity of his Fauvist phase faded away, André Derain has studied the early Cubist works of Picasso and Braque. His palette shrinks down to not much more than the brown and gray scales, while the objects are recast as basic geometric shapes, a shift that also endows them with a new solidity. The still life is now his preferred motif. Almost all the works from this period depict a table with an arrangement of various items from the kitchen—in this instance, an earthenware jug, a large and a small bowl, a wicker basket with a cloth and a bouquet garni. Derain departs from the aspirations of Cubism by emphasizing the integral thingness of the objects he paints. In our work, they appear set tightly together on the right-hand side of the wooden table, before a gently billowing green curtain. The tabletop is slanted toward the left, which lends the essentially static composition a certain tense energy and subtly nuanced dynamism. Derain's still lifes more than his other works reflect his familiarity with the classical painterly tradition.
Aufsatz Matthias Fischer, PDF, 121 KB
Provenance
Galerie Kahnweiler, Paris
Um 1928 Erworben bei Dr. Willi Raeber, Basel, von Karl Im Obersteg
Literature
Kellermann 1992/1999
Kellermann, Michel: André Derain. Catalogue raisonné de l'oeuvre peint, 3 Bde., Paris: Editions Galerie Schmit, 1992-1999, Bd. 1, S. 193, Nr. 319, Abb.

Baumgartner/von Tavel 1995
Michael Baumgartner und Hans Christoph von Tavel: Die Sammlung Karl und Jürg Im Obersteg, hrsg. von der Stiftung «Sammlung Karl und Jürg Im Obersteg», Bern, Bern: Benteli Verlag, 1995, S. 59-61, Nr. 12, Abb.
Exhibitions
Bern 1975
Sammlung Im Obersteg, bearb. von Hugo Wagner, hrsg. von Kunstmuseum Bern, 25. Juni-14. Sept 1975, Nr. 22, Abb.

Wien 2003
Im Banne der Moderne: Picasso, Chagall, Jawlensky, BA-CA Kunstforum, Wien, 4. Sept.-30. Nov. 2003, Nr. 16

Basel 2004
Die Sammlung Im Obersteg im Kunstmuseum Basel. Picasso, Chagall, Jawlensky, Soutine, Kunstmuseum Basel, 14. Febr.-2. Mai 2004, hrsg. von der Stiftung Im Obersteg, Basel: Schwabe Verlag, 2004, Nr. 65