André Derain - Femme aux cheveux longs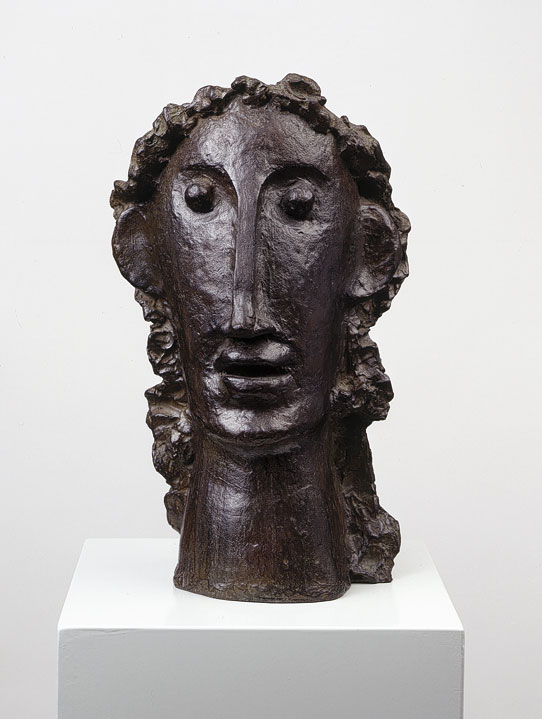 Femme aux cheveux longs, um 1938/50
Bronze
36 x 22 x 18 cm
Stiftung Im Obersteg, Depositum im Kunstmuseum Basel
Inv. Im 1154
Ausgestellt: Kunstmuseum Basel
While working on his paintings, Derain, starting in 1906, also built an extensive oeuvre in three dimensions. The bronze Femme aux cheveux longs bears a stylistic relation to the primitivist body of work in his sculptural output. Pierre Cailler, who edited the catalogue raisonné of André Derain's sculptures, places this work, which the artist left undated, in the years between 1938 and 1950. The bronze cast of the head, originally molded in potter's earth, was made posthumously, in the early 1960s, in an edition of fifteen copies. It is considerably larger than the majority of the artist's late terracotta pieces—primarily masks and figurines—with their distinctly intimate air. Femme aux cheveux longs is one in a group of larger sculptures in the round representing heads with elongated faces whose radical geometric reduction lends them a mask-like complexion. The simplification and exaggeration of the eyes, ears, nose, and mouths adds to this expression, occasionally verging on caricature. It is also conceivable that these striking heads were influenced by Derain's scenery and costume designs for theater productions.
Provenance
Herkunft unbekannt
Literature
Cailler 1965
Pierre Cailler (Hrsg.): Catalogue raisonné de l'oeuvre sculpté de André Derain, Première partie, l'oeuvre édité, Aigle: L'imprimerie de la plaine du Rhone, 1965, Abb. 49

Coray 1994
Pieter Coray: André Derain Bildhauer, Lugano/Mailand 1994, S. 98, Nr. 84, Abb. S. 99

Baumgartner/von Tavel 1995
Michael Baumgartner und Hans Christoph von Tavel: Die Sammlung Karl und Jürg Im Obersteg, hrsg. von der Stiftung «Sammlung Karl und Jürg Im Obersteg», Bern, Bern: Benteli Verlag, 1995, S. 62, Nr. 15, Abb.
Exhibitions
Valencià/Lausanne 2003
André Derain, Institut Valencià d'art modern, Valencià, Fondation de l'Hermitage, Lausanne 2003, Abb. S. 147

Wien 2003
Im Banne der Moderne: Picasso, Chagall, Jawlensky, BA-CA Kunstforum, Wien, 4. Sept.-30. Nov. 2003, Nr. 17

Basel 2004
Die Sammlung Im Obersteg im Kunstmuseum Basel. Picasso, Chagall, Jawlensky, Soutine, Kunstmuseum Basel, 14. Febr.-2. Mai 2004, hrsg. von der Stiftung Im Obersteg, Basel: Schwabe Verlag, 2004, Nr. 67