Aristide Maillol - Le printemps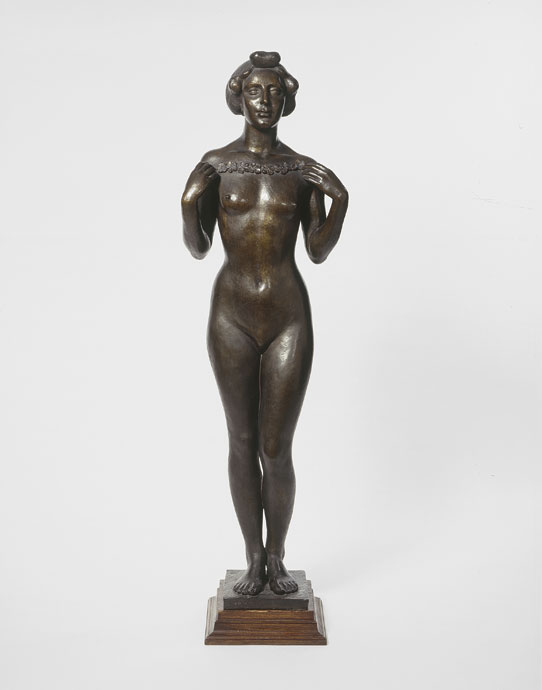 Le printemps, 1910/11
Bronze
168 x 50 x 31 cm
Stiftung Im Obersteg, Depositum im Kunstmuseum Basel
Inv. Im 1331
Ausgestellt: Kunstmuseum Basel
Le printemps and three other life-sized female figures, L'été, Flore, and Pomone, form a group of allegories that date from between 1909 and 1911/12. They were created for the Russian collector Ivan Morosov, who, in a deal brokered by Maillol's friend Maurice Denis, ordered the ensemble of four statues for the music room in his city palace in Moscow. Like the three other figures, the large sculpture Le printemps is informed by the artist's return to the foundations of early classical sculpture. The closed form—rather than the expansive gesture reaching out from the block-like silhouette—reflected the artist's vision. That is why the figure rests on a narrow plinth that confines it to statuesque motionlessness. The symmetrical arrangement of the various elements, the evenly bent arms, the flower garland over the chest, the harmonious proportions, and the smooth skin add to the impression of poise and serenity. In contrast with Rodin, who preferred dramatic representations, Maillol espoused the timeless and self-contained body as his ideal.
With a few exceptions, Maillol's sculptural oeuvre revolves around the female figure. His first muse—his domestic partner and, later, wife—exemplifies his preferred type: well-built women with feminine curves.
Aufsatz Regula Luginbühl-Wirz, PDF, 109 KB
Provenance
1927 erworben beim Künstler von Karl Im Obersteg
Literature
Baumgartner/von Tavel 1995
Michael Baumgartner und Hans Christoph von Tavel: Die Sammlung Karl und Jürg Im Obersteg, hrsg. von Stiftung «Sammlung Karl und Jürg Im Obersteg», Bern, Bern: Benteli Verlag, 1995, S. 42-44, Nr. 4, Abb.
Exhibitions
Basel 1933
Aristide Maillol, Kunsthalle Basel, 5. Aug.-16. Sept. 1933, Basel 1933, S. 15, Nr. 17 (Junges Weib sich eine Blumenkette umbindend)

Bern 1975
Sammlung Im Obersteg, bearb. von Hugo Wagner, hrsg. von Kunstmuseum Bern, 25. Juni-14. Sept. 1975, Nr. 62

Wien 2003
Im Banne der Moderne: Picasso, Chagall, Jawlensky, BA-CA Kunstforum, Wien, 4. Sept.-30. Nov. 2003, Nr. 50

Basel 2004
Die Sammlung Im Obersteg im Kunstmuseum Basel. Picasso, Chagall, Jawlensky, Soutine, Kunstmuseum Basel, 14. Febr.-2. Mai 2004, hrsg. von der Stiftung Im Obersteg, Basel: Schwabe Verlag, 2004, Nr. 127