Chaïm Soutine - L'enfant au jouet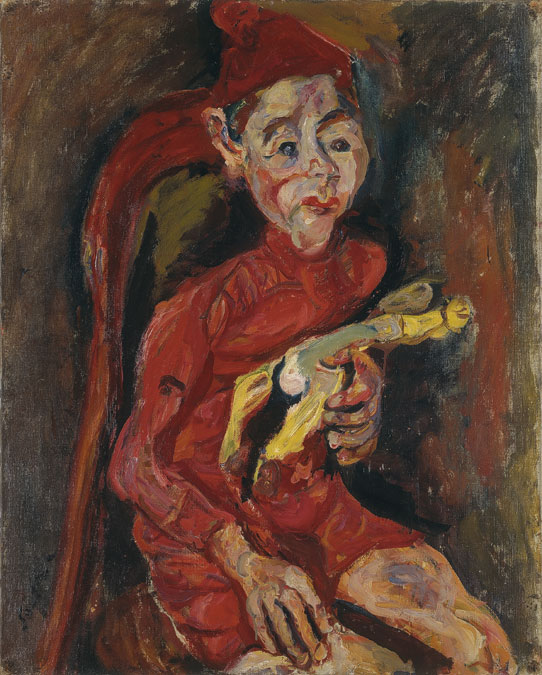 L'enfant au jouet, um 1919
Öl auf Leinwand
81 x 64.5 cm
Stiftung Im Obersteg, Depositum im Kunstmuseum Basel
Inv. Im 1521
Zurzeit nicht ausgestellt
The portrait in question is one from the artist's early Paris years. Soutine's many portraits are usually seated half or three-quarter length figures, who have turned their face towards the viewer and hold their hands in their lap or akimbo on their hips. Soutine often didn't know his models personally, and he had a preference for people in uniform. The boy portrayed here wears a tight-fitting suit that, like a uniform, leaves little room for individuality. The desired anonymity enables the painter to capture the character of his models without making any compromises and to enhance his expressiveness. The depiction of face and hands is especially forceful. In this picture they are strikingly large and scarred by life and work, in comparison to the frail body. The boy, though still a child, must have led an adult life, marked by hard labor. Soutine himself grew up in the most poverty-stricken circumstances and had had to suffer great hardship in his youth. It is this harsh experience that may well resonate in the present painting.
Provenance
1926 (Herbst) erworben an der Auktion Paul Guillaume bei Drouot, Paris, von Karl Im Obersteg
Literature
Cogniat 1952
Raymond Cogniat: Soutine (Reihe: Les trésors de la peinture française), Genf, Paris, New York: Skira, 1952, Abb. auf Einband

Raynal 1953
Maurice Raynal: Modern Painting, Genf 1953, Abb. S. 220

Myers 1969
Bernard S. Myers (Hrsg.), McGraw-Hill Dictionary of Art, 5 Bde., New York, London McGraw-Hill, 1969, Bd. 5, S. 214, Nr. 23

Jehle 1970
Werner Jehle: Ausstellungen Basel: Basler Kunstchronik, in: Werk, hrsg. vom Bund Schweizer Architekten (BSA), Winterthur, Vol. 57, No. 4, April 1970, S. 282-283, S. 282, Abb.

Courthion 1972
Pierre Courthion: Soutine. Peintre du déchirant, Lausanne 1972, Abb. S. 200 D

Nishimura 1973
Les Grands Maîtres de la peinture moderne. L'Ecole de Paris, hrsg. von Toshio Nishimura, Tokyo 1973, Nr. 13, Abb. S. 112

Tuchmann/Dunow u. a. 1993
Maurice Tuchmann, Esti Dunow und Klaus Perls: Chaim Soutine (1893-1943). Catalogue Raisonné. Werkverzeichnis, 2 Bde., Köln: Benedikt Taschen Verlag, 1993, Bd. 2, S. 554, Nr. 23, Abb.

Baumgartner/von Tavel 1995
Michael Baumgartner und Hans Christoph von Tavel: Die Sammlung Karl und Jürg Im Obersteg, hrsg. von der Stiftung «Sammlung Karl und Jürg Im Obersteg», Bern, Bern: Benteli Verlag, 1995, S. 150-152, Nr. 91, Abb.
Exhibitions
Lausanne 1964
Chefs-d'oeuvre des collections suisses de Manet à Picasso, Palais de Beaulieu, Lausanne 1964, Nr. 302, Abb.

Bern 1975
Sammlung Im Obersteg, bearb. von Hugo Wagner, hrsg. von Kunstmuseum Bern, 25. Juni-14. Sept. 1975, Nr. 77, Abb.

New York 1976/1977
European Master Paintings from Swiss Collections: Post-Impressionism to World War II, Museum of Modern Art, New York 1976-1977, S. 158, Abb.

Luzern 1982
Chaim Soutine 1893-1943, Kunstmuseum Luzern 1982, Nr. 97, Abb.

Köln 2001
The impact of Chaim Soutine (1893-1943): de Kooning, Pollock, Dubuffet, Bacon, Galerie Gmurzynska, Köln, mit Beiträgen von Maurice Tuchmann und Esti Dunow, Köln: Galerie Gmurzynska, 2001, Abb. S. 155

Wien 2003
Im Banne der Moderne: Picasso, Chagall, Jawlensky, BA-CA Kunstforum, Wien, 4. Sept.-30. Nov. 2003, Nr. 65

Basel 2004
Die Sammlung Im Obersteg im Kunstmuseum Basel. Picasso, Chagall, Jawlensky, Soutine, Kunstmuseum Basel, 14. Febr.-2. Mai 2004, hrsg. von der Stiftung Im Obersteg, Basel: Schwabe Verlag, 2004, Nr. 169