Ferdinand Hodler - Régina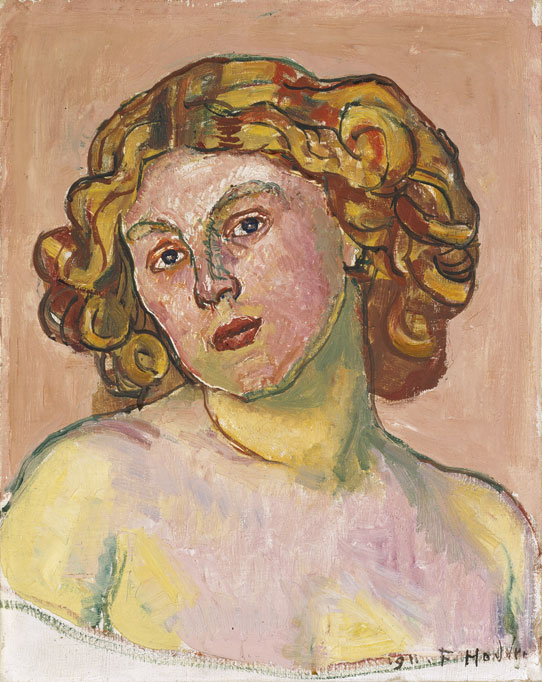 Régina, 1911
Öl auf Leinwand
48 x 38 cm
Stiftung Im Obersteg, Depositum im Kunstmuseum Basel
Inv. Im 1231
Zurzeit nicht ausgestellt
Among the almost 2,200 paintings in Hodler's known oeuvre are some 500 portraits. Besides his own likeness in the mirror, they mostly depict individuals he was close to and, once he gained wide acclaim, patrons who commissioned him to paint them. In this instance, the portrait of Régina Morgeron, we do know the sitter's name, but the caption on the stretcher frame identifying her as the "model" suggests that the work was not a commissioned portrait but created at the artist's pleasure. It is one in a series of portraits of models painted between 1910 and 1912 in which Hodler seems to be sampling the potentials of human emotional expression. In 1911 and 1912, Régina Morgeron sat for three altogether quite similar pictures; the one in the Im Obersteg Collection is the last one and presumably the version the artist regarded as definitive.
Aufsatz Paul Müller, PDF, 130 KB
Provenance
1919 oder 1920 erworben von Karl Im Obersteg
Literature
Baumgartner/von Tavel 1995
Michael Baumgartner und Hans Christoph von Tavel: Die Sammlung Karl und Jürg Im Obersteg, hrsg. von der Stiftung «Sammlung Karl und Jürg Im Obersteg», Bern, Bern: Benteli Verlag, 1995, S. 163-165, Nr. 99, Abb.
Exhibitions
Bern 1975
Sammlung Im Obersteg, bearb. von Hugo Wagner, hrsg. von Kunstmuseum Bern, 25. Juni-14. Sept. 1975, Nr. 31, Abb.

Wien 2003
Im Banne der Moderne: Picasso, Chagall, Jawlensky, BA-CA Kunstforum, Wien, 4. Sept.-30. Nov. 2003, Nr. 21

Basel 2004
Die Sammlung Im Obersteg im Kunstmuseum Basel. Picasso, Chagall, Jawlensky, Soutine, Kunstmuseum Basel, 14. Febr.-2. Mai 2004, hrsg. von der Stiftung Im Obersteg, Basel: Schwabe Verlag, 2004, Nr. 86