Georges Rouault - Ouvrière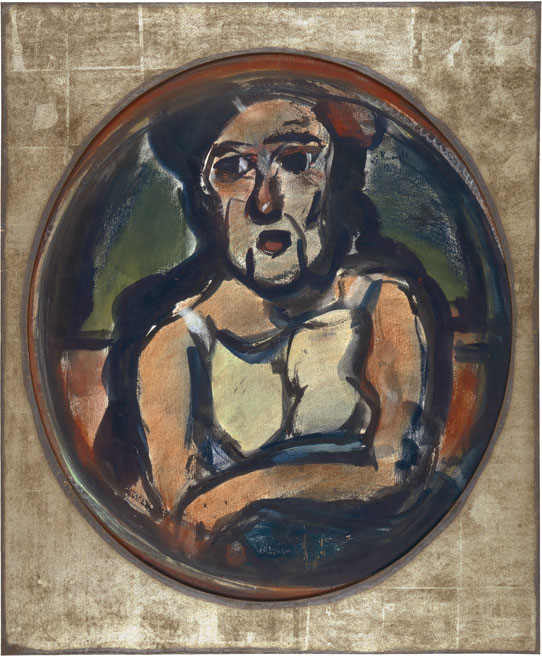 Ouvrière, 1911
Gouache und Kreide auf Papier, auf Karton aufgezogen
72.5 x 62 cm
Sammlung Im Obersteg, Depositum im Kunstmuseum Basel
Inv. Im 1482
Zurzeit nicht ausgestellt
The human being is at the heart of Georges Rouault's art. After a brief Fauvist phase, he dedicated himself to expressive portraits of clowns, prostitutes, defendants and their judges, preoccupations he shared with Honoré Daumier and Henri de Toulouse-Lautrec. Informed by his deep-rooted Catholic faith, Rouault's work reflects not so much an effort to articulate a searing critique of the existing social system as rather a concern with human suffering as such.
The workingwoman in this picture is captured in an oval format, an unusual choice for the subject that is probably explained by the artist's intermittent studies in ceramics between 1906 and 1912. On several occasions, he painted on platters and dishes created by the ceramist André Metthey.
Aufsatz Gian Casper Bott, PDF, 125 KB
Provenance
1932 erworben bei Paul Guillaume, Paris, von Karl Im Obersteg
Literature
George [1930]
Waldemar George: La Grande Peinture Contemporaine à la Collection Paul Guillaume, Paris [1930], S. 163, Abb. S. 162 (Buste)

Dorival 1988
Bernard Dorival: Rouault. L'oeuvre peint, catalogue établi par Isabelle Rouault, 2 Bde., Monte-Carlo: Editions André Sauret, 1988, Bd. 1, S. 138, Nr. 440 bis., Abb.

Baumgartner/von Tavel 1995
Michael Baumgartner und Hans Christoph von Tavel: Die Sammlung Karl und Jürg Im Obersteg, hrsg. von der Stiftung «Sammlung Karl und Jürg Im Obersteg», Bern, Bern: Benteli Verlag, 1995, S. 62-64, Nr. 16, Abb.
Exhibitions
Paris 1929
La collection Paul Guillaume, Galerie Bernheim-Jeune, Paris 1929

Bern 1975
Sammlung Im Obersteg, bearb. von Hugo Wagner, hrsg. von Kunstmuseum Bern, 25. Juni-14. Sept. 1975, Nr. 75, Abb. (Buste de clownesse)

Wien 2003
Im Banne der Moderne: Picasso, Chagall, Jawlensky, BA-CA Kunstforum, Wien, 4. Sept.-30. Nov. 2003, Nr. 62

Basel 2004
Die Sammlung Im Obersteg im Kunstmuseum Basel. Picasso, Chagall, Jawlensky, Soutine, Kunstmuseum Basel, 14. Febr.-2. Mai 2004, hrsg. von der Stiftung Im Obersteg, Basel: Schwabe Verlag, 2004, Nr. 159