Georges Rouault - Paysage (à la voile rouge)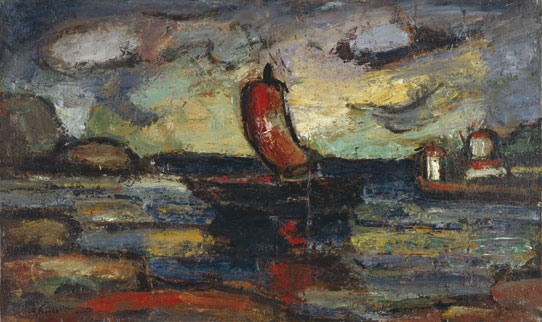 Paysage (à la voile rouge), 1939
Öl auf Papier, auf Gaze aufgezogen
50 x 84 cm
Stiftung Im Obersteg, Depositum im Kunstmuseum Basel
Inv. Im 1484
Zurzeit nicht ausgestellt
This landscape is centered on a sailboat on a lake, whose expanse is framed by shores on both sides and in the foreground. Several houses can be seen on the right but not a single human figure appears anywhere in the picture, a rare exception in Rouault's oeuvre. Still, we have reason to assume that the work is related to the artist's biblical landscapes. Luminous color contrasts highlight the central area with the boat gliding over the water, its sail swelled by a gentle breeze. Black contours surround the red canvas as well as the rock formations along the shores and the buildings, forming delimited areas of solid color that bring Rouault's work as a glass painter to mind. The natural scene is somber, even gloomy, yet also aglow with the intensity of its dense colors, which suffuse it with an intimation of transcendence. Palpably physical, the compact pigments, which the artist applied with the palette knife, endow the landscape with an otherworldly radiance.
Aufsatz Gian Casper Bott, PDF, 125 KB
Provenance
1951 erworben bei der Galerie Drouant-David, Paris, von Karl Im Obersteg
Literature
Venturi 1959
Lionello Venturi: Rouault, Genf 1959, S. 86, Abb. S. 87

Dorival 1988
Bernard Dorival: Rouault. L'oeuvre peint, catalogue établi par Isabelle Rouault, 2 Bde., Monte-Carlo: Editions André Sauret, 1988, Bd. 2, S. 126, Nr. 1784, Abb.

Baumgartner/von Tavel 1995
Michael Baumgartner und Hans Christoph von Tavel: Die Sammlung Karl und Jürg Im Obersteg, hrsg. von der Stiftung «Sammlung Karl und Jürg Im Obersteg», Bern, Bern: Benteli Verlag, 1995, S. 66, Nr. 19, Abb.
Exhibitions
Bern 1975
Sammlung Im Obersteg, bearb. von Hugo Wagner, hrsg. von Kunstmuseum Bern, 25. Juni-14. Sept. 1975, Nr. 76, Abb.

Wien 2003
Im Banne der Moderne: Picasso, Chagall, Jawlensky, BA-CA Kunstforum, Wien, 4. Sept.-30. Nov. 2003, Nr. 63

Basel 2004
Die Sammlung Im Obersteg im Kunstmuseum Basel. Picasso, Chagall, Jawlensky, Soutine, Kunstmuseum Basel, 14. Febr.-2. Mai 2004, hrsg. von der Stiftung Im Obersteg, Basel: Schwabe Verlag, 2004, Nr. 160