Jean Dubuffet - Effigie rocher fruiteux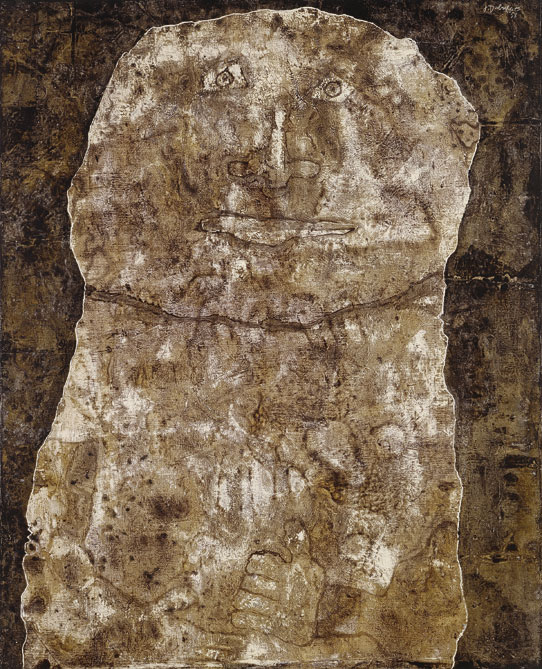 Effigie rocher fruiteux, 1958
Öl auf Leinwand
100 x 81 cm
Stiftung Im Obersteg, Depositum im Kunstmuseum Basel
Inv. Im 1171
Ausgestellt: Kunstmuseum Basel
Effigie rocher fruiteux is one of a series, in which Dubuffet had ghostly faces and bodies emerge from earthy textures. However, for his means he did not use unworked raw material, but helped himself to the traditional painting medium of oil paint, which he then reworked in a thoroughly unconventional way. He smeared the picture support with paint, let it dry out and washed it away again, beat it out and thus created surfaces that recall geological structures. Thus, from the formlessness of the picture ground and as if by chance, the figure of a comical creature emerges, whose neckless head rests on the trunk of its body like a boulder.
Aufsatz Michael Baumgartner, PDF, 209 KB
Provenance
1959 erworben bei der Galerie Creuzevault, Paris, von Karl Im Obersteg
Literature
Loreau 1966/1991
Max Loreau: Catalogue des travaux de Jean Dubuffet, 38 Bde., Paris und Genf 1966-1991, Bd. 14, S. 144, Nr. 21, Abb. S. 27

Baumgartner/von Tavel 1995
Michael Baumgartner und Hans Christoph von Tavel: Die Sammlung Karl und Jürg Im Obersteg, hrsg. von der Stiftung «Sammlung Karl und Jürg Im Obersteg», Bern, Bern: Benteli Verlag, 1995, S. 214-216, Nr. 151, Abb.
Exhibitions
Bern 1975
Sammlung Im Obersteg, bearb. von Hugo Wagner, hrsg. von Kunstmuseum Bern, 25. Juni-14. Sept. 1975, Nr. 23, Abb.

Wien 2003
Im Banne der Moderne: Picasso, Chagall, Jawlensky, BA-CA Kunstforum, Wien, 4. Sept.-30. Nov. 2003, Nr. 19

Basel 2004
Die Sammlung Im Obersteg im Kunstmuseum Basel. Picasso, Chagall, Jawlensky, Soutine, Kunstmuseum Basel, 14. Febr.-2. Mai 2004, hrsg. von der Stiftung Im Obersteg, Basel: Schwabe Verlag, 2004, Nr. 70