Louis Soutter - Vierges…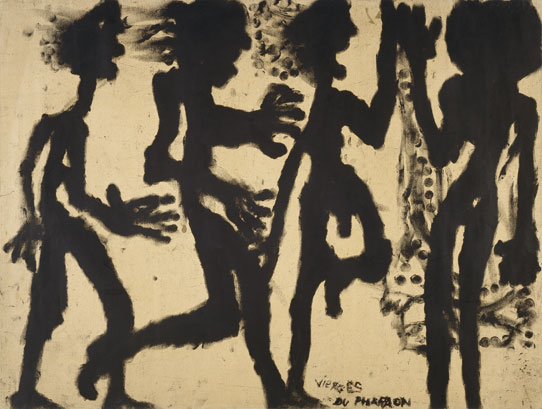 Vierges…, 1937/42
Fingerzeichnung, schwarze Tinte auf Papier
43 x 58 cm
Stiftung Im Obersteg, Depositum im Kunstmuseum Basel
Inv. Im 1541
Zurzeit nicht ausgestellt
In his last five years, Louis Soutter suffered from an eye condition that severely impaired his vision. At the same time, sclerotic lesions crippled his fingers. The exceptionally gifted Soutter, who had taken up making art again after being committed to a hospice in 1923, responded to these limitations by laying brushes, pens, and pencils aside and painting with his fingers. Propelled by clumsy and dramatic gestures of his more agile elbow, his hands dabbed expansive black shadow figures with oddly contorted silhouettes on light grounds. Savage and vaguely archaic, these figures are haunting embodiments of agitation and obsession. Their dance-like movements in this work point to the legendary sphere of Pharaonic Egypt, which exerted a lasting fascination on the artist. Ultimately, however, Soutter's compositional inventions elude definitive interpretation. They are the arcane visions of a creative mind spellbound by the mystery of existence.
Aufsatz Hartwig Fischer, PDF, 116 KB
Provenance
1972 erworben bei der Galerie Beyeler, Basel, von Jürg Im Obersteg
Literature
Thévoz 1976
Michel Thévoz: Louis Soutter. Catalogue de l'oeuvre, hrsg. vom Schweizerischen Institut für Kunstwissenschaft, Zürich, Lausanne: Verlag L'Age d'Homme, 1976, S. 341, Nr. 2719, Abb.

Baumgartner/von Tavel 1995
Michael Baumgartner und Hans Christoph von Tavel: Die Sammlung Karl und Jürg Im Obersteg, hrsg. von der Stiftung «Sammlung Karl und Jürg Im Obersteg», Bern, Bern: Benteli Verlag, 1995, S. 184, Nr. 115, Abb.
Exhibitions
Basel 1972
Von Venus zu Venus, Galerie Beyeler, Basel, Sept.-Okt. 1972, Basel 1972, S. 56, Nr. 90, Abb. 42

Bern 1975
Sammlung Im Obersteg, bearb. von Hugo Wagner, hrsg. von Kunstmuseum Bern, 25. Juni-14. Sept. 1975, Nr. 83, Abb.

Basel/Lausanne 2002/2003
Louis Soutter: 1871-1942, Kunstmuseum Basel, 28. Sept. 2002-5. Jan. 2003; Musée cantonal des Beaux-Arts, Lausanne und Collection de l'Art Brut, Lausanne, 21. Feb.-4. Mai 2003, Hartwig Fischer (Hrsg.), 2002, S. 304, Nr. 190, Abb. S. 186

Wien 2003
Im Banne der Moderne: Picasso, Chagall, Jawlensky, BA-CA Kunstforum, Wien, 4. Sept.-30. Nov. 2003, Nr. 70

Basel 2004
Die Sammlung Im Obersteg im Kunstmuseum Basel. Picasso, Chagall, Jawlensky, Soutine, Kunstmuseum Basel, 14. Febr.-2. Mai 2004, hrsg. von der Stiftung Im Obersteg, Basel: Schwabe Verlag, 2004, Nr. 176