Marc Chagall - Selbstbildnis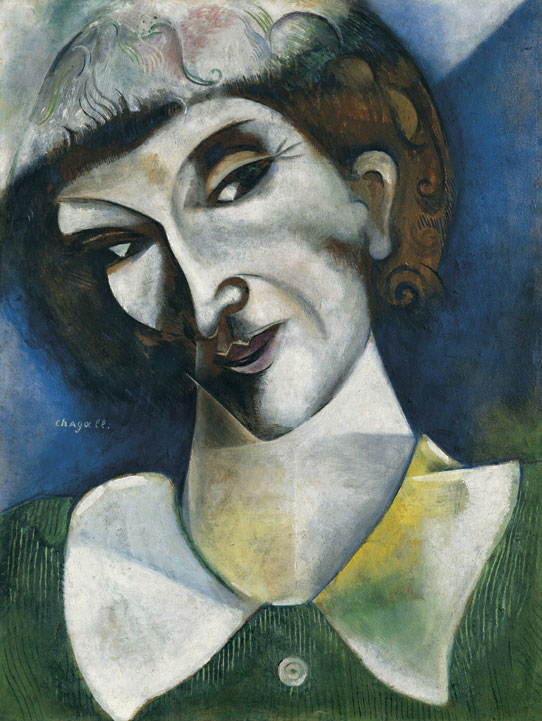 Selbstbildnis, 1914
Öl auf Karton auf Leinwand aufgezogen
50,5 x 38 cm
Sammlung Im Obersteg, Depositum im Kunstmuseum Basel
Inv. Im 1081
Ausgestellt: Kunstmuseum Basel
In May 1914 Chagall travelled from Paris to Berlin, where the art dealer, Herwarth Walden, arranged his first solo exhibition at the gallery "Der Sturm". Over the past four years in Paris, within the force field of Fauvism, Cubism and Orphism, Chagall developed into a modern painter. After his exhibition opened in Berlin, he continued his travels to Vitebsk with the intention of visiting his family and his fiancée Bella Rosenfeld. What had been planned as a three-month quick trip to his native country stretched to unforeseeable duration as a result of the war that had just broken out. During the eight years that Chagall was forced to spend in Russia, he became increasingly engaged with his family origins, his Jewish roots and with his role as an artist. In the year 1914 alone, he produced several self-portraits. Schooled in the classical tradition of the portrait, Chagall presented himself, in part, as a self-assured painter with his insignia of palette, paintbrush and easel. In several cases, he did without these painter's props and concentrated on a close-up of his face. In the Self-Portrait of the Im Obersteg Collection, this aspect of self-questioning dovetails with that of the masquerade. The painter seems to have worn make-up on this occasion, as he sometimes did. The strange eyes reduced to slits twinkle with mischief and restrained skepticism, and the mouth's smug smile confronts us. The facial features of the artist's head tilted to the right above a long neck seem feminine. The pale complexion and the mop of surreally lit curly hair underline the enigmatic aura of the head. A bright cobalt blue is the backdrop for a large area of the frame-filling visage. The white collar, partly yellow-lit, of a clown shirt concludes the lower part. The simplicity and the rupture of forms, as well as the powerful accents of color, are owed to the influence of Orphism and Cubism and lend the mask-like portrait a modern and impersonal charisma.
Provenance
Marc Chagall
A. Kagan-Chabchay, Paris
1936 erworben bei A. Kagan-Chabchay, Paris, von Karl Im Obersteg
Literature
Einstein 1926
Carl Einstein: Die Kunst des 20. Jahrhunderts, Berlin: Propylaen-Verlag, 1926, Abb. Tafel 34 (Bildnis eines Mannes)

Sélection 1929
Sélection. Chronique de la vie artistique, Heft Nr. 6, April 1929 (Marc Chagall), Beiträge von Paul Fierens, André Le Ridder, Marc Chagall u. a., Anvers (Belgien): Editons Sélection, 1929, Abb. S. 94

Sweeney 1946
James J. Sweeney: Marc Chagall, New York 1946, S. 31, Abb.

Venturi 1956
Lionello Venturi: Chagall (Le goût de notre temps), Genf, Paris, New York: Editions d' Art Albert Skira, 1956, Abb. S. 10

Meyer 1961
Franz Meyer: Marc Chagall. Leben und Werk, Köln: Verlag M. DuMont Schauberg, 1961, S. 221-222, 743, Abb. S. 225

Kamenski 1988
Alexandre Kamenski: Chagall. Periode russe et soviétique 1907-1922, Paris: Editions du Regard, 1988, Abb. S. 152

Baumgartner/von Tavel 1995
Michael Baumgartner und Hans Christoph von Tavel: Die Sammlung Karl und Jürg Im Obersteg, hrsg. von der Stiftung «Sammlung Karl und Jürg Im Obersteg», Bern, Bern: Benteli Verlag, 1995, S. 136-138, Nr. 85, Abb.
Exhibitions
Basel 1933
Marc Chagall, Kunsthalle Basel 1933, 4. Nov.-3. Dez.1933, Basel 1933, Nr. 35

Zürich 1950/1951
Marc Chagall, Kunsthaus Zürich, 1950-1951, Zürich 1950, Nr. 23

Bern 1975
Sammlung Im Obersteg, bearb. von Hugo Wagner, hrsg. von Kunstmuseum Bern, 25. Juni-14. Sept 1975, Nr. 12, Abb.

Basel 1984/1985
Marc Chagall, Galerie Beyeler, Basel 1984-85, Nr. 18, Abb.

London 1985
Chagall, Royal Academy of Arts, London, 1985, Susan Compton (Hrsg.), London: Merell Holberton, 1985, S. 185, Abb. 38

Bern 1995/96
Marc Chagall 1907-1917, Kunstmuseum Bern, 16.Dez. 1995-28. Feb.1996, bearb. von Sandor Kuthy und Meret Meyer, Bern1995/96, Nr. 17, Abb. S. 41

Wien 2003
Im Banne der Moderne: Picasso, Chagall, Jawlensky, BA-CA Kunstforum, Wien, 4. Sept.-30. Nov. 2003, Nr. 14

Basel 2004
Die Sammlung Im Obersteg im Kunstmuseum Basel. Picasso, Chagall, Jawlensky, Soutine, Kunstmuseum Basel, 14. Febr.-2. Mai 2004, hrsg. von der Stiftung Im Obersteg, Basel: Schwabe Verlag, 2004, Nr. 41

Basel 2017
Chagall. Die Jahre des Durchbruchs 1911-1919, Kunstmuseum Basel, 16.09.2017-21.01.2018, hrsg. von Josef Helfenstein und Olga Osadtschy, Verlag der Buchhandlung Walther König, Köln, 2017, Nr. 110, Abb. S. 249