Maurice de Vlaminck - L'inondation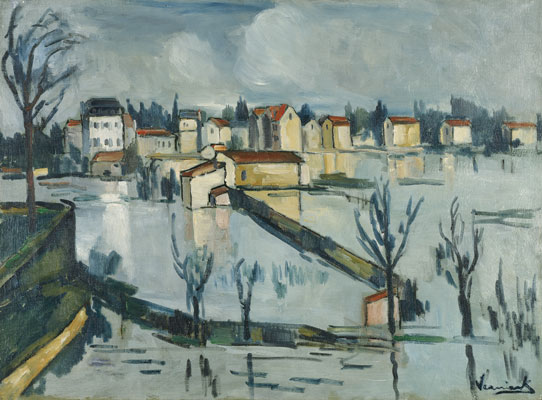 L'inondation, 1910
Öl auf Leinwand
60 x 81 cm
Sammlung Im Obersteg, Depositum im Kunstmuseum Basel
Inv. Im 1601
Zurzeit nicht ausgestellt
In the early twentieth century, Maurice de Vlaminck, together with Henri Matisse and André Derain, is one of the protagonists of the Fauvist movement. Around 1908, Vlaminck begins to discover the art of Paul Cézanne as an inspiration for his own painting. Especially in the years until 1914, he produces numerous paintings that grapple with formal problems in the southern French master's oeuvre. In the painting L'inondation, a view of the town of Ivry, where the artist lives, Cézanne's influence is recognizable mainly in the pictorial construction and representation of the landscape in its three dimensions. The surfaces arranged on the canvas in a clearly structured succession of planes are primarily defined by horizontals and verticals that guide the eye from the foreground into the depth. The surface of the water of the Seine, which has burst its banks, takes up the bottom two thirds of the wide format. The trees close to the beholder are cursorily sketched with a broad brush, while the buildings on the far shore are neatly contoured, which makes them seem closer than they are, an effect reinforced by the vigorous colors of the roofs. Their red and orange hues correspond to the fresh green in a complementary contrast, a vestige of Vlaminck's Fauvist phase, in which he had applied highly saturated paints straight from the tube to the canvas.
We can date the painting to 1910 with some confidence: in a series of letters between Vlaminck and his friend André Derain, the latter expressed his apprehension that the flood of the Seine might have inundated Vlaminck's home in Ivry.
Aufsatz Matthias Fischer, PDF, 130 KB
Provenance
1944 erworben bei der Galerie Georges Moos, Genf, von Karl Im Obersteg
Literature
Baumgartner/von Tavel 1995
Michael Baumgartner und Hans Christoph von Tavel: Die Sammlung Karl und Jürg Im Obersteg, hrsg. von der Stiftung «Sammlung Karl und Jürg Im Obersteg», Bern, Bern: Benteli Verlag, 1995, S. 56-57, Nr. 10, Abb.
Exhibitions
Bern 1961
Maurice de Vlaminck, Kunstmuseum Bern, 1961, Nr. 143

Bern 1975
Sammlung Im Obersteg, bearb. von Hugo Wagner, hrsg. von Kunstmuseum Bern, 25. Juni-14. Sept. 1975, Nr. 89, Abb.

Wien 2003
Im Banne der Moderne: Picasso, Chagall, Jawlensky, BA-CA Kunstforum, Wien, 4. Sept.-30. Nov. 2003, Nr. 77

Basel 2004
Die Sammlung Im Obersteg im Kunstmuseum Basel. Picasso, Chagall, Jawlensky, Soutine, Kunstmuseum Basel, 14. Febr.-2. Mai 2004, hrsg. von der Stiftung Im Obersteg, Basel: Schwabe Verlag, 2004, Nr. 184