Maurice Utrillo - L'église Saint-Séverin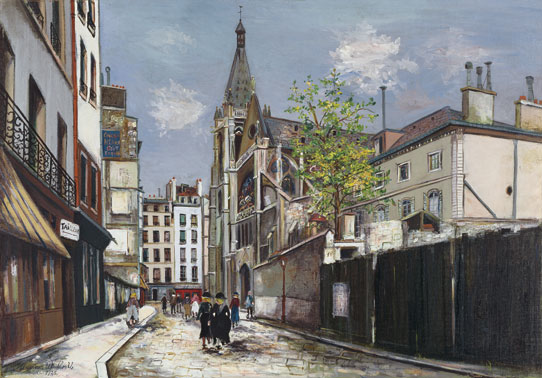 L'église Saint-Séverin, 1925
Öl auf Leinwand
65 x 92 cm
Sammlung Im Obersteg, Depositum im Kunstmuseum Basel
Inv. Im 1561
Zurzeit nicht ausgestellt
The painting shows the perspective down Rue Boutebrie toward Rue Saint-Séverin in Paris's Quartier Latin. The west front of the Gothic Church of Saint-Séverin can be made out on the right at the far end of the street. The bell tower is visible in its entirety, but a building and a tree in the foreground obscure the nave so that the church almost blends into the fabric of the neighborhood. Rather than choosing the prominent view from in front of the structure's imposing façade, Utrillo presents to our eyes an unspectacular segment of this historic urban core. The portraitist of Montmartre records store signs, window grates and curtains, the irregular pattern of a wooden fence, or the remnants of a demolished wall with painstaking accuracy. These details convey a distinctly small-town atmosphere, which was then characteristic of many neighborhoods in Paris. A group of human figures, among them two women in black attire and with exaggerated features, seem to be moving towards the church's entrance. The painting stands out in the artist's oeuvre for its comparatively lively palette. Contrasting with the earlier works from Utrillo's "période blanche," this innovation is presumably due to a practice he had adopted in the 1920s: he worked from color postcards. The staffage added to breathe life into urban motifs is another device that first appears in his output around this time.
Aufsatz Matthias Fischer, PDF, 130 KB
Provenance
1926 erworben bei der Galerie Bernheim-Jeune, Paris, von Karl Im Obersteg
Literature
Tabarant 1926
[Adolphe] Tabarant,:Utrillo, Paris: Bernheim-Jeune 1926, Abb. S. 237
Pétridès 1959/1974
Paul Pétridès: L'oeuvre complet de Maurice Utrillo, 5 Bde., Paris 1959-1974, Bd. 2, S. 442, Nr. 1109, Abb.

Baumgartner/von Tavel 1995
Michael Baumgartner und Hans Christoph von Tavel: Die Sammlung Karl und Jürg Im Obersteg, hrsg. von der Stiftung «Sammlung Karl und Jürg Im Obersteg», Bern, Bern: Benteli Verlag, 1995, S. 77-78, Nr. 31, Abb.
Exhibitions
Basel 1928
Oskar Lüthy + Franzosen (Renoir, Rouault), Kunsthalle Basel, 8. Nov.-2. Dez. 1928, Basel 1928, Nr. 162

Bern 1975
Sammlung Im Obersteg, bearb. von Hugo Wagner, hrsg. von Kunstmuseum Bern, 25. Juni-14. Sept. 1975, Nr. 86, Abb.

Wien 2003
Im Banne der Moderne: Picasso, Chagall, Jawlensky, BA-CA Kunstforum, Wien, 4. Sept.-30. Nov. 2003, Nr. 74

Basel 2004
Die Sammlung Im Obersteg im Kunstmuseum Basel. Picasso, Chagall, Jawlensky, Soutine, Kunstmuseum Basel, 14. Febr.-2. Mai 2004, hrsg. von der Stiftung Im Obersteg, Basel: Schwabe Verlag, 2004, Nr. 181