Odilon Redon - Siren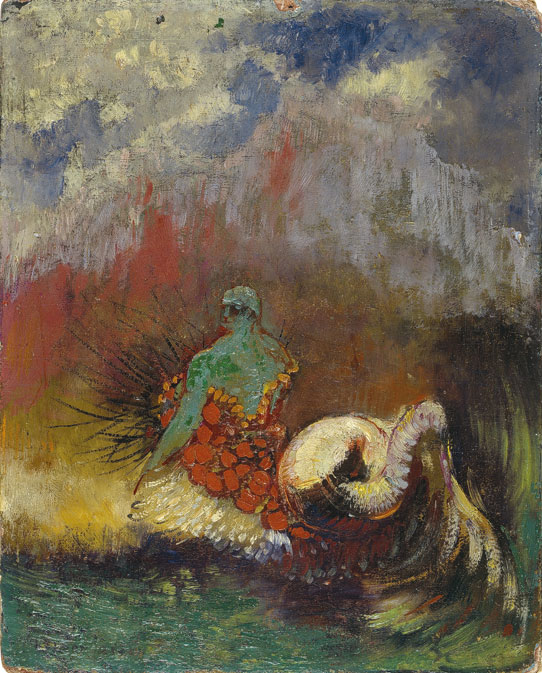 Siren, um 1900
Öl auf Faserplatte
27 x 22 cm
Stiftung Im Obersteg, Depositum im Kunstmuseum Basel
Inv. Im 1441
Ausgestellt: Kunstmuseum Basel
A green figure, her back turned to the beholder, rides a wave. The carapace in which she is clad is covered in red dots and armored with stings on the chest and abdomen that ends in a curled fish tail. In the deliberately undefined background, the greenish swells merge into menacing greyish-brown clouds. Like many of the works that Odilon Redon executed in pastels or oil in the second half of his life, La sirène revisits a motif that the artist had rendered with the means of graphic art in the early decades of his career. First sketched in a charcoal drawing in 1882, the composition was included in the portfolio of eight lithographs Les origines published in 1883, where Redon laid out a poetically inspired theory of evolution.
Aufsatz Lukas Gloor, PDF, 109 KB
Provenance
Herkunft unbekannt
Literature
Berger 1964
Klaus Berger: Odilon Redon. Phantasie und Farbe, Köln 1964, S. 187, Nr. 80

Wildenstein 1992/1998
Alec Wildenstein: Odilon Redon. Catalogue raisonné de l'oeuvre peint et dessiné, 4 Bde., Paris 1992-1998, Bd. 2, S. 243, Nr. 1203, Abb.

Baumgartner/von Tavel 1995
Michael Baumgartner und Hans Christoph von Tavel: Die Sammlung Karl und Jürg Im Obersteg, hrsg. von der Stiftung «Sammlung Karl und Jürg Im Obersteg», Bern, Bern: Benteli Verlag, 1995, S. 36-38, Nr. 2, Abb.
Exhibitions
Bern 1958
Odilon Redon 1840-1916, Kunsthalle Bern, 1958, 1958, Nr. 160

Bern 1975
Sammlung Im Obersteg, bearb. von Hugo Wagner, hrsg. von Kunstmuseum Bern, 25. Juni-14. Sept. 1975, Nr. 71, Abb.

Wien 2003
Im Banne der Moderne: Picasso, Chagall, Jawlensky, BA-CA Kunstforum, Wien, 4. Sept.-30. Nov. 2003, Nr. 58

Basel 2004
Die Sammlung Im Obersteg im Kunstmuseum Basel. Picasso, Chagall, Jawlensky, Soutine, Kunstmuseum Basel, 14. Febr.-2. Mai 2004, hrsg. von der Stiftung Im Obersteg, Basel: Schwabe Verlag, 2004, Nr. 153