Pablo Picasso - Buveuse d'absinthe / [recto : Femme dans la loge]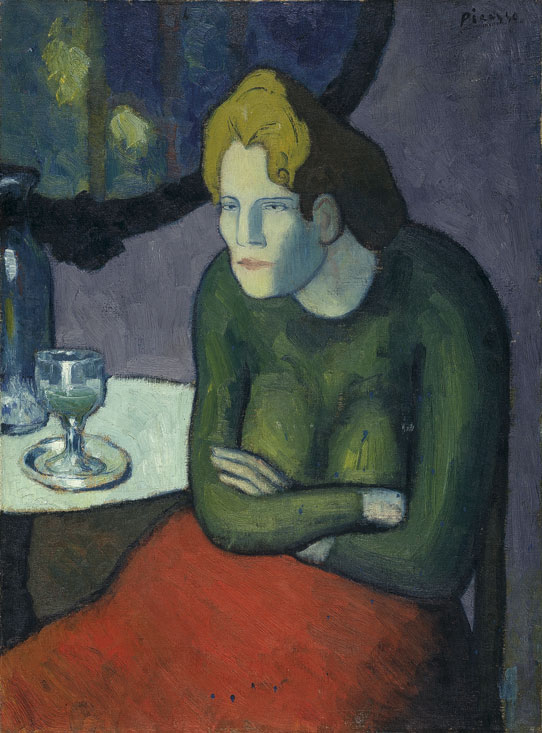 Buveuse d'absinthe / [recto : Femme dans la loge], 1901
Öl auf Leinwand
81 x 60 cm
Stiftung Im Obersteg, Depositum im Kunstmuseum Basel
Inv. Im 1411
Ausgestellt: Kunstmuseum Basel
From his first two stays in Paris, absinthe drinkers appear in Picasso's drawings and paintings as figures of addiction and decline with gaunt bodies, overlarge hands and narrow lips. The Buveuse d'absinthe in the Im Obersteg Collection from the autumn of 1901 characterizes the beginning of the Blue Period that lasted till 1905 and was succeeded by the Pink Period. In his painting Picasso goes back to Paul Gauguin's flat planes with black contours. Whereas Toulous-Lautrec and Degas inspired him to the genre of the half-length figure. The themes behind his many pictures of the Blue Period were the result of the artist's social engagement for the misery of the poor and the deprived. By way of his acquaintance with Louis Jullien, a doctor at the women's prison and the Saint-Lazare hospital, Picasso was able to visit this depressing facility and observed women in the neighboring cafés, where they spent their free time. The dark-toned colors and oppressive melancholy of the works in this period correspond to Picasso's chief mood at the time, caused by the suicide of his artist friend, Carlos Casagemas, which shook him awake from his initial exhilaration with life in Paris to show him a harsher reality. In his work, this break became evident with his shift away from color-intensive expressionist scenes of Paris nightlife à la Toulouse-Lautrec to the more somber figures of the Blue Period. Whereas shortly before, a vehement brushstroke breathed sparkling life into the scenes, now in works such as the Buveuse d'absinthe, every animation is transformed into suffocating depression. The absinthe drinker sits alone, with arms crossed and slightly bent shoulders at a round bistro table. Her gaze is empty. Light from outside of the picture falls across her pale face. Eyes and nose are shaded in blue-green. Alongside the seated woman, a glass of absinthe and a water carafe stand on a round marble table. At the time absinthe was the drink of the poor, cheaper than wine, and was often consumed excessively.
Provenance
Galerie Justin Thannhauser, München
bis 1925 Galerie Bollag, Zürich
1925 erworben bei der Galerie Bollag, Zürich, von Karl Im Obersteg
Literature
Zervos 1932/1978
Christian Zervos: Pablo Picasso. Catalogue raisonné des peintures et dessins, 33 Bde., Paris 1932-1978, Bd. 1, Nr. 100, Abb. 49 (Fille aux bras croisés)

Cassou 1940
Jean Cassou: Picasso. Les oeuvres, Paris: Hypérion, 1940, Abb. S. 40 (Fille aux bras croisés; La buveuse d'absinthe)

Erben 1947
Walter Erben: Picasso und die Schwermut, Heidelberg 1947, S. 14, Abb. S. 15

Cirici-Pellicer 1950
Alexandre Cirici-Pellicer: Picasso avant Picasso, Genf 1950, Abb. 124

Daix/Boudaille 1966
Pierre Daix und Georges Boudaille, Werkverzeichnis in Zusammenarbeit mit Joan Rosselet: Picasso 1900-1906. Catalogue raisonné de l'oeuvre peint, Neuchâtel: Ides et Calendes, 1966, S. 201, Nr. VI. 25, Abb.

Moravia 1968
Alberto Moravia: L'opera completa di Picasso blu e rosa, Apparati critici e filologici di Paolo Lecaldano (Reihe: Classici dell'Arte), Milano: Rizzoli 1968, Nr. 12, Abb.

Palau i Fabre 1981
Josep Palau i Fabre: Picasso. Kindheit und Jugend eines Genies 1881-1907, München: Prestel-Verlag, 1981, S. 536, Abb. S. 267 (Frau mit verschränkten Armen)

Baumgartner/von Tavel 1995
Michael Baumgartner und Hans Christoph von Tavel: Die Sammlung Karl und Jürg Im Obersteg, hrsg. von der Stiftung «Sammlung Karl und Jürg Im Obersteg», Bern, Bern: Benteli Verlag, 1995, S. 48-51, Nr. 7, Abb.
Exhibitions
Bern 1975
Sammlung Im Obersteg, bearb. von Hugo Wagner, hrsg. von Kunstmuseum Bern, 25. Juni-14. Sept. 1975, Nr. 66, Abb.

Basel 1976
Picasso. Aus dem Museum of Modern Art New York und Schweizer Sammlungen, Kunstmuseum Basel, Basel 1976, S. 15, Nr. 1, Abb.

Bern 1984/1985
Der junge Picasso. Frühwerk und Blaue Periode, Kunstmuseum Bern, 8. Dez. 1984-17. Feb. 1985, bearb. von Glaesemer, Jürgen (Hrsg.) und Marilyn McCully (sachberatende Mitarbeit), Bern 1984, Nr. 129 b, Abb. S. 233

Luzern 1988
Von Matisse bis Picasso. Hommage an Siegfried Rosengart, Kunstmuseum Luzern, 19. Juni-11. Sept. 1988, hrsg. von Martin Kunz, Stuttgart: Verlag Gerd Hatje, 1988, S. 198, Nr. 53, Abb. S. 159

Bern 2001
Picasso und die Schweiz. Meisterwerke aus Schweizer Sammlungen, Kunstmuseum Bern, 5. Okt. 2001-6. Jan. 2002, Hrsg. Marc Fehlmann, Toni Stooss, Bern: Stämpfli, 2001, Nr. 9, Abb.

Wien 2003
Im Banne der Moderne: Picasso, Chagall, Jawlensky, BA-CA Kunstforum, Wien, 4. Sept.-30. Nov. 2003, Nr. 54

Basel 2004
Die Sammlung Im Obersteg im Kunstmuseum Basel. Picasso, Chagall, Jawlensky, Soutine, Kunstmuseum Basel, 14. Febr.-2. Mai 2004, hrsg. von der Stiftung Im Obersteg, Basel: Schwabe Verlag, 2004, Nr. 148

Basel 2013
Die Picassos sind da! Eine Retrospektive aus Basler Sammlungen, Ausst.-Kat. Kunstmuseum Basel, 17. März – 21. Juli 2013, kuratiert von Anita Haldemann und Nina Zimmer, mit Beiträgen von Anita Haldemann, Henriette Mentha, Christian Spies, Anne-Christine Strobel, Seraina Werthemann und Nina Zimmer, Ostfildern: Hatje Cantz, 2013, S. 26, 28, 74, Nr. 2, Abb. S. 61

London 2013
Becoming Picasso Paris 1901, Ausst.-Kat. The Courtauld Gallery, London, 14. Febr. – 26. Mai 2013, Hrsg. Barnaby Wright, London: Paul Holberton, 2013, S. 24, Abb. S. 25

Paris 2018/2019
Picasso. Bleu et rose, Ausst.-Kat. Musée d'Orsay, Paris, 18. Sept. 2018 – 6. Jan. 2019; Fondation Beyeler, Riehen, 3. Febr. – 26. Mai 2019, Hrsg. Annie Dufour, Paris: Éditions Hazan, 2018, S. 75, 355, Nr. 73, Abb. S. 109