Pablo Picasso - Nu couché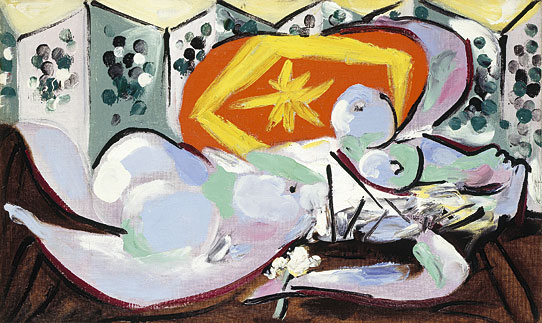 Nu couché, 1934
Öl auf Leinwand
33 x 55 cm
Sammlung Im Obersteg, Depositum im Kunstmuseum Basel
Inv. Im 1413
Ausgestellt: Kunstmuseum Basel
The motif of the reclining female nude in the small 1934 painting Nu couché stands in a long line of tradition. In Picasso's pictures of Marie-Thérèse that he painted between 1930 and 1936, the motif of the reclining nude is a central theme, one of which is in the Im Obersteg Collection. The painting is dated the 16th of June 1934 and is one of a series of nudes that Picasso did of his then secret mistress. Picasso painted the picture in his studio in Boisgeloup, a castle in the Normandy that he bought in the spring of 1930. He did many of his large sculptures in the castle's spacious outbuildings, sculptures that are closely linked to the figure of Marie-Thérèse. On the 8th of January 1927 Picasso made the chance acquaintance of the young Marie-Thérèse Walter on the streets of Paris. He addressed her with these words: "Mademoiselle, you have an interesting face. I would like to paint your portrait. We are going to do some extraordinary things together." The artist, married at the time to the dancer Olga Koklova, had in the following years an intense secret relationship with Marie-Thérèse Walter, then just 17. Many of the artist's love letters to Marie-Thérèse, whose code name was MT, are evidence of his passion for the young woman. Picasso's devouring love is the constantly recurring theme of these letters. And thus the portraits of the sleeping Marie-Thérèse are the expression of his poetic love: "I see you before me, my beautiful landscape MT, and do not tire of watching the way you lie on your back in the sand. My darling MT, I love you. MT, my rising sun that engulfs me. You are always within me, MT, mother of glittering odors, covered in jasmine petals. I love you more than the taste of your mouth, more than your gaze, more than your hands, more than your whole body, more and more…" In the eight years of their relationship, his young mistress appears in countless works. He painted her reading or as a mirror image and very often asleep, which for the artist was the most intimate of depictions. The line of her Greek profile, simplified to a curve from forehead to nose, became her trademark.
Provenance
1936 erworben bei Paul Rosenberg, Paris, von Karl Im Obersteg
Literature
Zervos 1932/1978
Christian Zervos: Pablo Picasso. Catalogue raisonné des peintures et dessins, 33 Bde., Paris 1932-1978, Bd. 7, Nr. 403, Abb. 178

Baumgartner/von Tavel 1995
Michael Baumgartner und Hans Christoph von Tavel: Die Sammlung Karl und Jürg Im Obersteg, hrsg. von der Stiftung «Sammlung Karl und Jürg Im Obersteg», Bern, Bern: Benteli Verlag, 1995, S. 52-54, Nr. 8, Abb.
Exhibitions
Bern 1975
Sammlung Im Obersteg, bearb. von Hugo Wagner, hrsg. von Kunstmuseum Bern, 25. Juni-14. Sept. 1975, Nr. 68, Abb.

Bern 2001
Picasso und die Schweiz. Meisterwerke aus Schweizer Sammlungen, Kunstmuseum Bern, 5. Okt. 2001-6. Jan. 2002, Hrsg. Marc Fehlmann, Toni Stooss, Bern: Stämpfli, 2001, Nr. 108, Abb.

Wien 2003
Im Banne der Moderne: Picasso, Chagall, Jawlensky, BA-CA Kunstforum, Wien, 4. Sept.-30. Nov. 2003, Nr. 55

Basel 2004
Die Sammlung Im Obersteg im Kunstmuseum Basel. Picasso, Chagall, Jawlensky, Soutine, Kunstmuseum Basel, 14. Febr.-2. Mai 2004, hrsg. von der Stiftung Im Obersteg, Basel: Schwabe Verlag, 2004, Nr. 149

Bern 2010
Klee trifft Picasso, Ausst.-Kat. Zentrum Paul Klee, Bern: 6. Juni – 26. Sept. 2010, mit Beiträgen von Christine Hopfengart, Hrsg. Zentrum Paul Klee, Bern, Ostfildern: Hatje Cantz Verlag, 2010, Abb. S. 189

Basel 2013
Die Picassos sind da! Eine Retrospektive aus Basler Sammlungen, Ausst.-Kat. Kunstmuseum Basel, 17. März – 21. Juli 2013, kuratiert von Anita Haldemann und Nina Zimmer, mit Beiträgen von Anita Haldemann, Henriette Mentha, Christian Spies, Anne-Christine Strobel, Seraina Werthemann und Nina Zimmer, Ostfildern: Hatje Cantz, 2013, S. 26, 108, 154, Nr. 65, Abb. S. 144

Bern 2016/2017
Paul Klee und die Surrealisten, Ausst.-Kat. Zentrum Paul Klee, Bern, 18. Nov. 2016 – 12. März 2017, mit Beiträgen von Michael Baumgartner, Kai-Inga Dost, Guitemie Maldonado, Osamu Okuda, Jürgen Pech, Anne-Sophie Petit-Emptaz, Hans-Peter Wittwer, Hrsg. Michael Baumgartner und Nina Zimmer, Berlin: Hatje Cantz, 2016, S. 178, Nr. 157, Abb. S. 209