Paul Klee - Hunting Lodge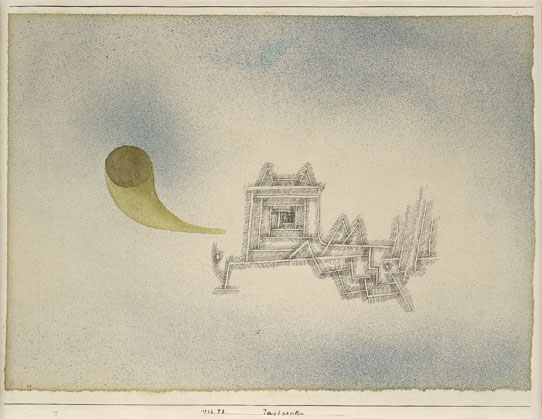 Hunting Lodge, 1926
Feder und Aquarell, teilweise gespritzt, auf Papier, auf Karton
22 x 30.5 cm
Sammlung Im Obersteg, Depositum im Kunstmuseum Basel
Inv. Im 1303
Zurzeit nicht ausgestellt
Hunting Lodge is the weightless construction of an imaginary building. The fantastic structure is rendered in accurately executed ink hatchings and combined with the curved shape of a green hunting horn on the left. The delicate construction harks back to Klee's pedagogical notes for his classes at the Bauhaus. The use of sprayed watercolor lends an ethereal quality to the pictorial space. An innovative technique, it reflects the avant-gardist objectives of the Bauhaus, where Klee had taught since 1921.
Aufsatz Michael Baumgartner, PDF, 100 KB
Provenance
1929 erworben bei der Galerie Neue Kunst Hans Goltz, München, von Karl Im Obersteg
Literature
Baumgartner/von Tavel 1995
Michael Baumgartner und Hans Christoph von Tavel: Die Sammlung Karl und Jürg Im Obersteg, hrsg. von der Stiftung «Sammlung Karl und Jürg Im Obersteg», Bern, Bern: Benteli Verlag, 1995, S. 178, Nr. 112, Abb.

Paul-Klee-Stiftung 1998-2004
Paul Klee: Catalogue raisonné. Hrsg. Paul-Klee-Stiftung, Kunstmuseum Bern. Projektleitung: Josef Helfenstein, Christian Rümelin, u.a. 9 Bde. Bern: Benteli, 1998-2004, Bd. 4, S. 446, Nr. 4014, Abb.
Exhibitions
Dresden 1926
Paul Klee, Dresden, Galerie Neue Kunst Fides, 21. Mai-Ende Juni 1926, Dresden 1926, Nr. 71

Basel 1933
Moderne deutsche Malerei aus Privatbesitz, Kunsthalle Basel, 7.-29. Okt. 1933, Basel, 1933, S. 4, Nr. 92

Bern 1975
Sammlung Im Obersteg, bearb. von Hugo Wagner, hrsg. von Kunstmuseum Bern, 25. Juni-14. Sept. 1975, Nr. 60, Abb.

Wien 2003
Im Banne der Moderne: Picasso, Chagall, Jawlensky, BA-CA Kunstforum, Wien, 4. Sept.-30. Nov. 2003, Nr. 48

Basel 2004
Die Sammlung Im Obersteg im Kunstmuseum Basel. Picasso, Chagall, Jawlensky, Soutine, Kunstmuseum Basel, 14. Febr.-2. Mai 2004, hrsg. von der Stiftung Im Obersteg, Basel: Schwabe Verlag, 2004, Nr. 123