Suzanne Valadon - La grenouille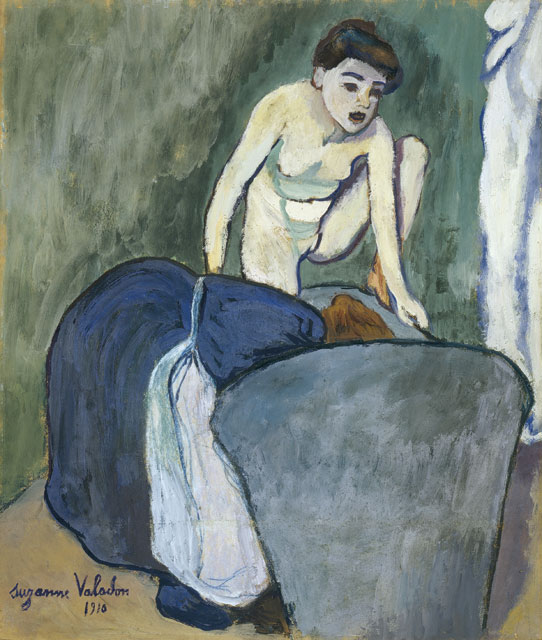 La grenouille, 1910
Pastell und Öl auf Papier, auf Karton aufgezogen
58.5 x 49.5 cm
Sammlung Im Obersteg
Inv. Im 1591
Ausgestellt: Kunstmuseum Basel
La grenouille (The Frog) or The Girl shows a naked young woman clambering into a zinc bathtub. The scene is presumably a boudoir, a characteristic setting for the motifs of the bohemian artists of the time, who moved in and out of the hotels and bordellos of Montmartre. Although the artist adopted ideas from contemporaries she admired and emulated clearly identifiable tendencies spearheaded by her more famous colleagues, she gave these influences an unmistakable personal inflection in a work that moreover stands apart for the ingenuousness of its motif and the simplicity of its depiction. The borrowings from Paul Gauguin's Cloisonnism and echoes of the artist's study of Japanese woodcuts are evident in the vigorous contours of the tub, while the division of the surface into flat fields of solid color harks back to Fauvism. Bold color chords with contrasting hues in immediate juxtaposition and the fairly undifferentiated background sketched in a few vigorous strokes shroud the room's features and blur the depth effect, focusing our attention on the fine-limbed nude and bathtub. The painting dates from 1910, when the invitation to participate in the Paris Salons d'Automne heralded Suzanne Valadon's achievement of sustained success.
Aufsatz Matthias Fischer, PDF, 115 KB
Provenance
Louis Broder
1955 erworben in der Ausstellung «La femme par quelques artistes français et suisses», Musée de l'Athénée, Genf, von Karl Im Obersteg
Literature
Jacometti 1947
Nesto Jacometti: Suzanne Valadon (Reihe: Peintres et sculpteurs d'hier et d'aujourd'hui), Genf: Editions Pierre Cailler 1947, Abb. 17

Pétridès 1971
Paul Pétridès: L'oeuvre complet de Suzanne Valadon, Paris: CFAG, 1971, S. 129, Nr. D 171, Abb.

Baumgartner/von Tavel 1995
Michael Baumgartner und Hans Christoph von Tavel: Die Sammlung Karl und Jürg Im Obersteg, hrsg. von der Stiftung «Sammlung Karl und Jürg Im Obersteg», Bern, Bern: Benteli Verlag, 1995, S. 74, Nr. 29, Abb.
Exhibitions
Genf 1955
La femme, Musée de l'Athénée, Genf 1955, Nr. 62, Abb.

Bern 1975
Sammlung Im Obersteg, bearb. von Hugo Wagner, hrsg. von Kunstmuseum Bern, 25. Juni-14. Sept. 1975, Nr. 87
Wien 2003
Im Banne der Moderne: Picasso, Chagall, Jawlensky, BA-CA Kunstforum, Wien, 4. Sept.-30. Nov. 2003, Nr. 75

Basel 2004
Die Sammlung Im Obersteg im Kunstmuseum Basel. Picasso, Chagall, Jawlensky, Soutine, Kunstmuseum Basel, 14. Febr.-2. Mai 2004, hrsg. von der Stiftung Im Obersteg, Basel: Schwabe Verlag, 2004, Nr. 182