Suzanne Valadon - Panier d'oeufs de cane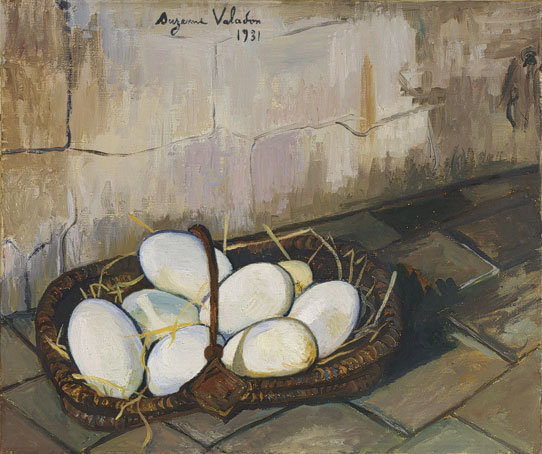 Panier d'oeufs de cane, 1931
Öl auf Leinwand
38.5 x 46 cm
Stiftung Im Obersteg, Depositum im Kunstmuseum Basel
Inv. Im 1592
Zurzeit nicht ausgestellt
Until the 1920s, Suzanne Valadon primarily painted nudes, portraits, and landscapes. After 1920, the still life became her preferred genre. Panier d'œufs de cane is one of the artist's most accomplished late still lifes. The simple and rustic motif, a flat basket containing eight large duck eggs and a few stray stalks of straw, is rendered in a muted palette of browns and yellows. The eggs, white with admixtures of yellow, light green, and light blue, make for a luminous contrast with the comparatively dark surrounding elements. Set down in front of a wall, the object appears in isolation, which endows it with a peculiar haunting presence. The simple and austere composition and the interplay between rounded and plane shapes lend this picture its distinctive quality.
Provenance
1950 erworben bei der Galerie Moos, Genf, von Karl Im Obersteg
Literature
Jacometti 1947
Nesto Jacometti: Suzanne Valadon (Reihe: Peintres et sculpteurs d'hier et d'aujourd'hui), Genf: Editions Pierre Cailler 1947, Abb. Tafel 3
Pétridès 1971
Paul Pétridès: L'oeuvre complet de Suzanne Valadon, Paris: CFAG, 1971, S. 342, Nr. P 434, Abb.

Baumgartner/von Tavel 1995
Michael Baumgartner und Hans Christoph von Tavel: Die Sammlung Karl und Jürg Im Obersteg, hrsg. von der Stiftung «Sammlung Karl und Jürg Im Obersteg», Bern, Bern: Benteli Verlag, 1995, S. 75, Nr. 30, Abb.
Exhibitions
Vevey 1955
Maurice Utrillo, Amadeo Modigliani, André Utter, Suzanne Valadon, Musée Jenisch, Vevey 1955, Nr. 78

Bern 1975
Sammlung Im Obersteg, bearb. von Hugo Wagner, hrsg. von Kunstmuseum Bern, 25. Juni-14. Sept. 1975, Nr. 88, Abb.

Martigny 1996
Suzanne Valadon, Fondation Pierre Gianadda, Martigny, 26 Jan.-27 Mai 1996, bearb. von Daniel Marchesseau, Martigny 1996, S. 146, Nr. 69, Abb.

Wien 2003
Im Banne der Moderne: Picasso, Chagall, Jawlensky, BA-CA Kunstforum, Wien, 4. Sept.-30. Nov. 2003, Nr. 76

Basel 2004
Die Sammlung Im Obersteg im Kunstmuseum Basel. Picasso, Chagall, Jawlensky, Soutine, Kunstmuseum Basel, 14. Febr.-2. Mai 2004, hrsg. von der Stiftung Im Obersteg, Basel: Schwabe Verlag, 2004, Nr. 183