Chronology of the collection
1916 1920 1930 1940 1950 1960 1970 1980 2020
1920
Begin of the correspondence with the dance couple, Alexander and Clotilde Sacharoff-von Derp. Karl Im Obersteg with great interest followed and promoted the career of the dancers, who became world famous and whose art founded modern dance.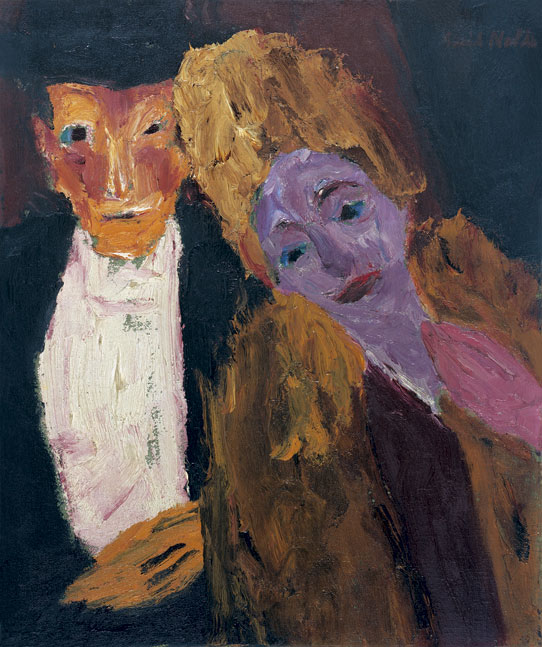 1920 ca.
Emil Nolde, Herr und Dame (Dame im Pelz), 1918; presumably bought in Berlin, where during the winter the artist worked and also sold the majority of his works.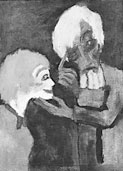 1920 ca.
Emil Nolde, Scholar with Girl, around ; presumably bought in Berlin. The painting was sold and since 1957 has been in the possession of the Museum Kunst Palast Düsseldorf.
1921
Begin of the years lasting correspondence with Alexej von Jawlensky. At Jawlensky's request, Karl Im Obersteg went to a lot of trouble to sell and transport works by Amiet, van Gogh, Gauguin and Hodler from Jawlensky's collection.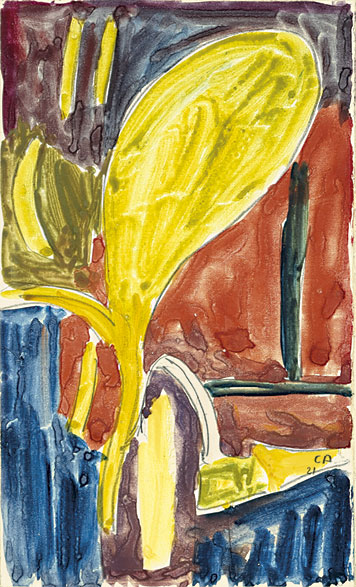 1921
Cuno Amiet, Variation nach Jawlensky, 1921; gift from the artist.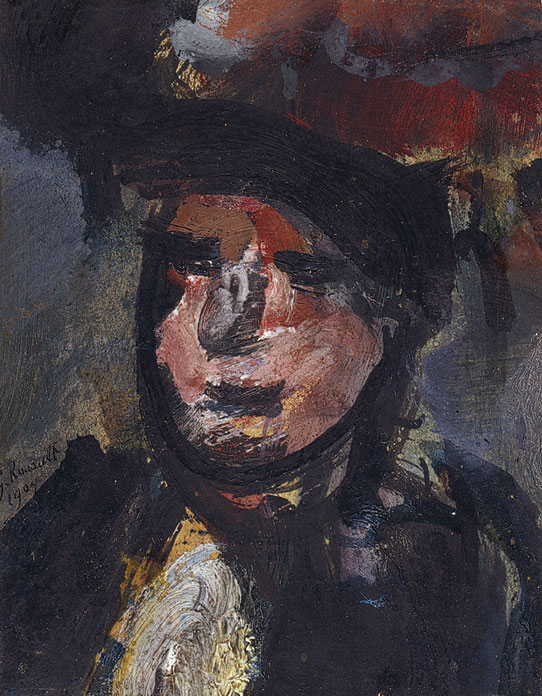 1922
Georges Rouault, Portrait de femme, 1904; bought at the Galerie Marseille, Paris.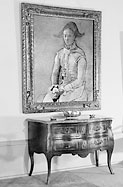 1923
Pablo Picasso, Arlequin assis, fond foncé, 1923; bought at Paul Rosenberg, Paris, between 22 October 1923 (date of the receipt Picasso made out to Rosenberg) and the beginning of November 1923. With the consent of its new owner, Karl Im Obersteg, the painting was shown on 17 November 1923 at Wildenstein's in New York at the exhibition opening of "Recent Works by Picasso" and at the next station in the Arts Club in Chicago (December 1923/January 1924). For the return transportation, the work was assured for 75,000 francs, which may well have corresponded to the purchase price. The picture shows the Spanish painter, Jacinto Salvado (1892-1983) in a harlequin costume, sunk in a thoughtful and melancholy mood. In the Im Obersteg Collection, the portrait for a long time represented the grand start of a significant series of pictures of human figures with partly tragic expressions, whose melancholy resonance gives this private collection its particularly penetrating feature. After Karl Im Obersteg's death in 1969, it is the sale of this painting that financially allowed the collection to survive as a whole. It is found today in a private collection.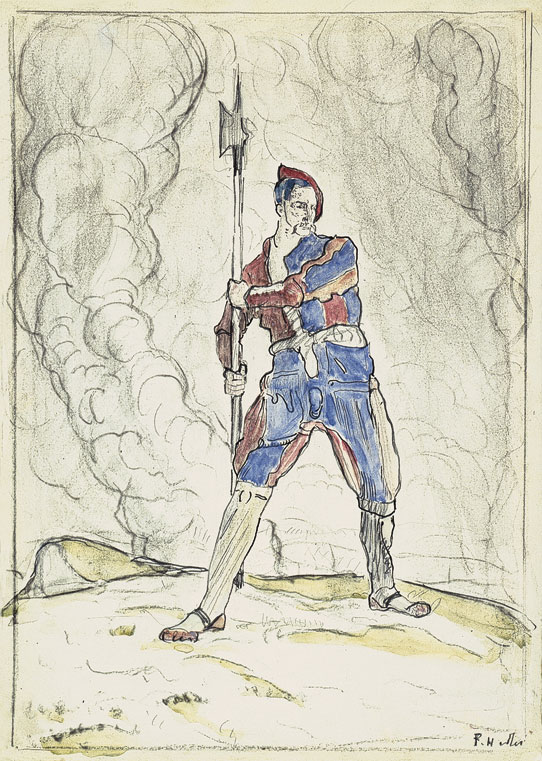 1925
Ferdinand Hodler, Stehender Landsknecht. Study for the «Schlacht von Marignano», 1898; bought at the Collection Paul Linder, Basel.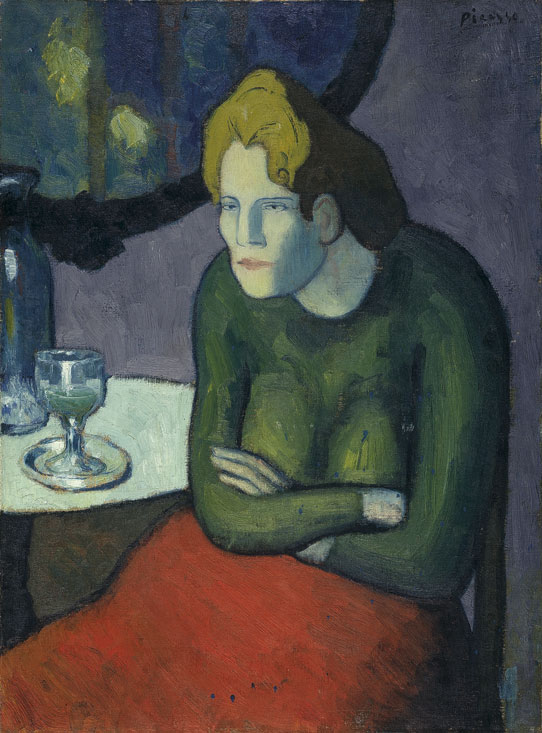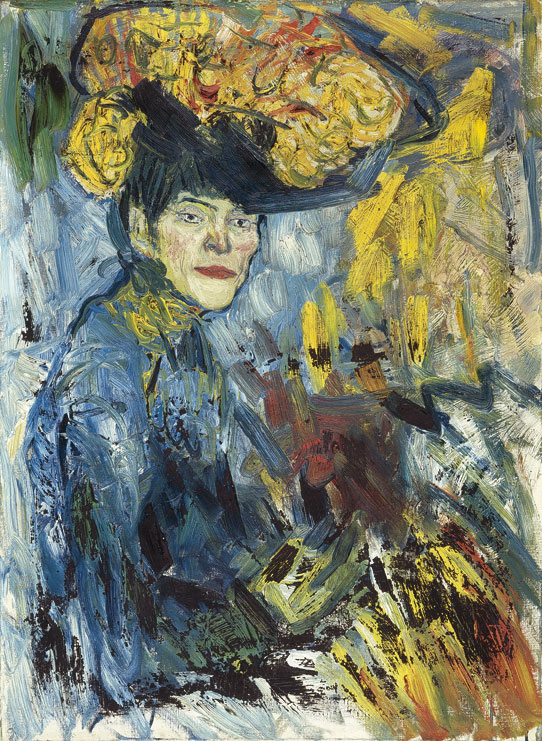 1925
Pablo Picasso, Buveuse d'absinthe / Femme dans la loge, 1901; bought on 19 June at the Galerie Bollag, Zurich. The painting was sent on 10 March from Justin Thannhauser in Munich to the Galerie Bollag in Zurich. In the Galerie Bollag's entry log, only Buveuse d'absinthe is mentioned, not Femme dans la loge, which is on the reverse side of the canvas. Femme dans la loge still today shows traces of a black coat of paint, which hints at a possible earlier overpainting. The two sides of the canvas are stylistically different, although they are only a few weeks apart.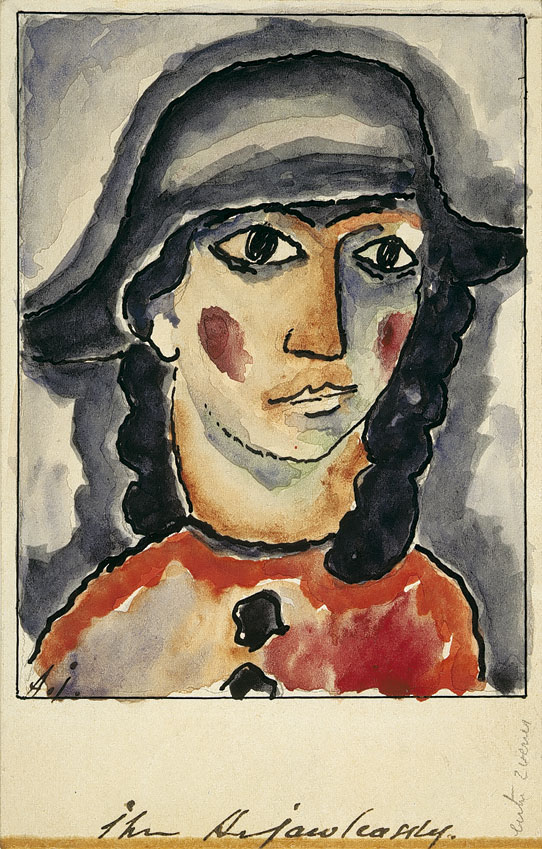 1925
Alexej von Jawlensky, Weiblicher Kopf; postcard with head painted in watercolor sent to Marianne Im Obersteg. On the back of the card Jawlensky describes the worsening market in Germany and the resulting difficulties for him as an artist: "Dear madame! Oh, how I would like to come visit you like last year! How lovely it was at your place! But it is unfortunately impossible now. All these years I have always been able to sell my pictures quite well and could therefore afford to travel to Switzerland. Germany has so little money that art is too big a luxury, and nothing at all is bought. Thank you warmly for such a dear invitation. I kiss your hand and send my most heartfelt regards to your dear husband».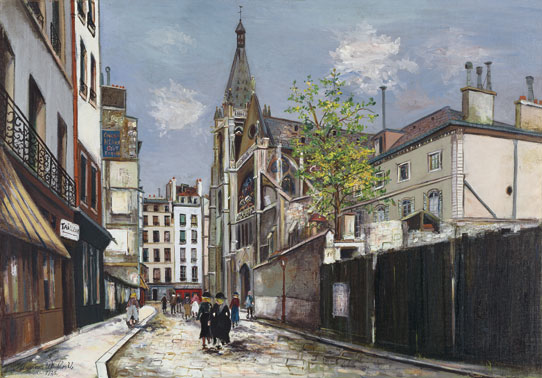 1926
Maurice Utrillo, L'église Saint-Séverin à Paris, 1925; bought at the Galerie Bernheim-Jeune, Paris.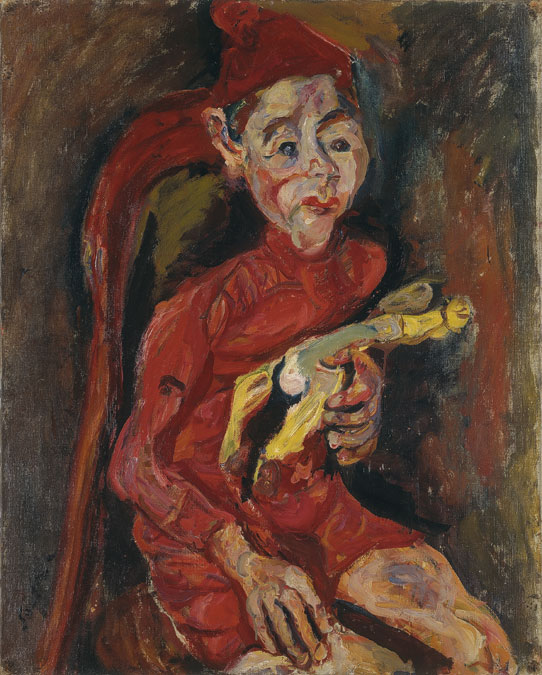 1926
Chaïm Soutine, L'enfant au jouet, around 1919; bought at the auction Paul Guillaume at Hôtel Drouot, Paris. Just a few years prior, Soutine had finally been able to cast off his poverty and become a sought-after painter of his times. In 1923 he was "discovered" by the American collector, Albert Barnes, who at one blow bought 52 of his works, thus launching a demand for Soutine's paintings. In 1927 Henri Bing-Bodmer gave the painter his first solo exhibition in Paris. After which Soutine had regular exhibits in the French capital and also in the U.S.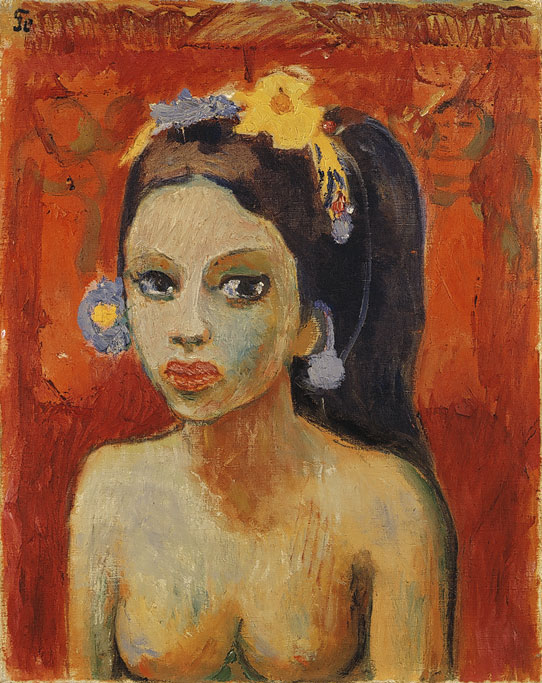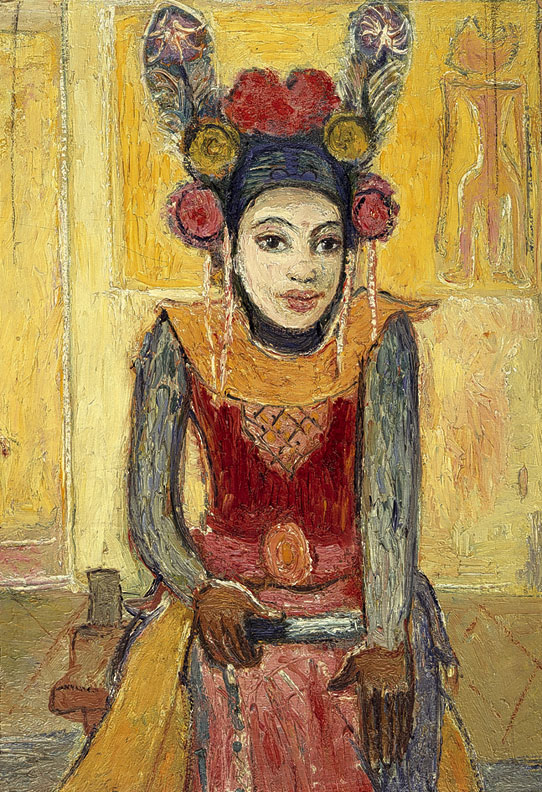 1926
Robert Genin, Balinesin I, 1926 und Balinesin II (Legontänzerin), 1926; bought from the artist.

1927
Marc Chagall, Die Hochzeit, 1910; purchase at Léopold Zborowski, Paris. In 1936 Karl Im Obersteg exchanges the painting for the Jude in Grün, 1914. Chagall again took up residence in 1923 in Paris after he had had to spend the years from 1914-1922 in his hometown of Vitebsk because of the war. The painter lost almost all his works in the war. By buying Die Hochzeit, Karl Im Obersteg came into possession of one of the rare early works.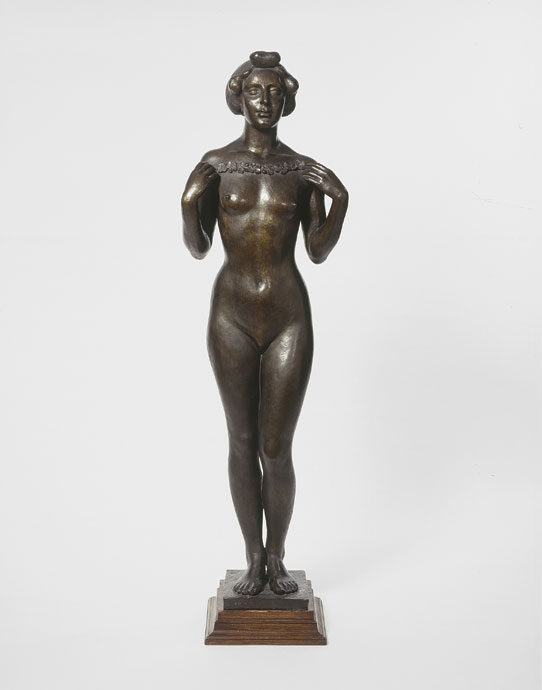 1927
Aristide Maillol, Le printemps, 1910/11; bought from the artist.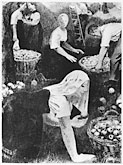 1927
Cuno Amiet, Die Obsternte, 1926; bought from the artist. The painting was burnt 1931 in a fire at the Munich Glass Palace.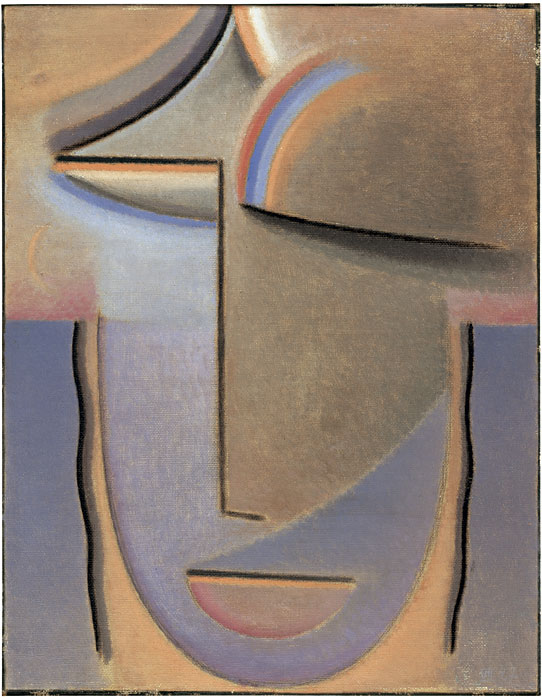 1928
Alexej von Jawlensky, Abstrakter Kopf: Abend, 1927; bought from the artist as a Christmas present for his wife Marianne Im Obersteg.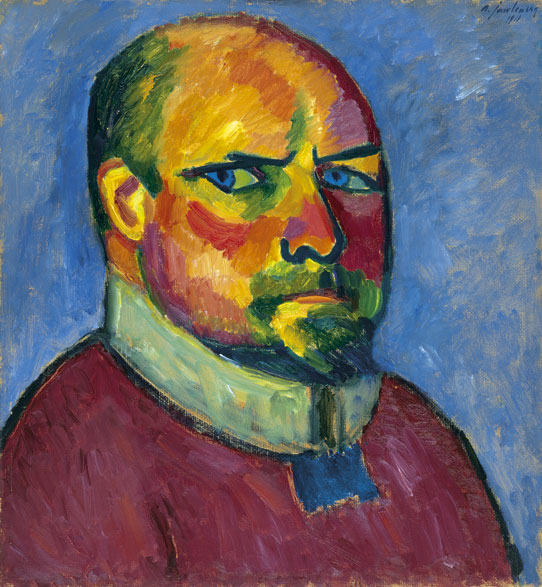 1928
Alexej von Jawlensky, Selbstbildnis, 1911; bought from the artist at Christmas. The years 1911 and 1912 were crucial for Jawlensky's self-discovery and his professional success. During this time the artist painted four expressionist self-portraits that weren't about psychological differentiation but about the emotionality and the expressive power of color, as the example in the Im Obersteg Collection especially makes clear.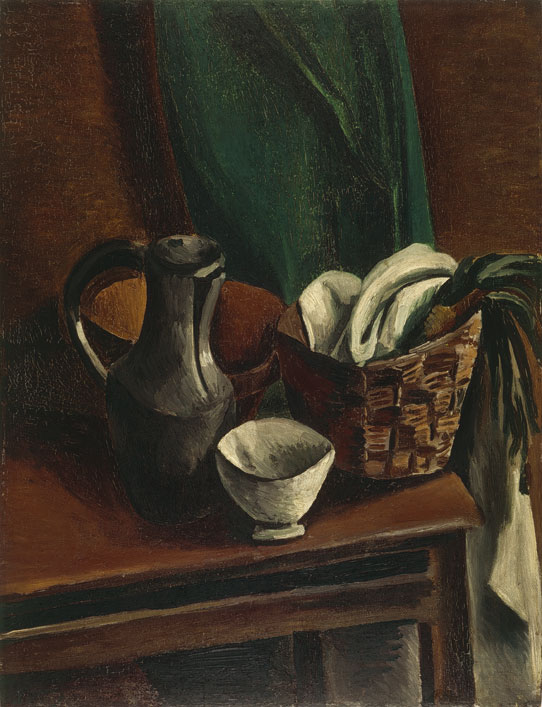 1928 ca.
André Derain, Nature morte au broc, 1912; bought at the Galerie Willi Raeber, Basel.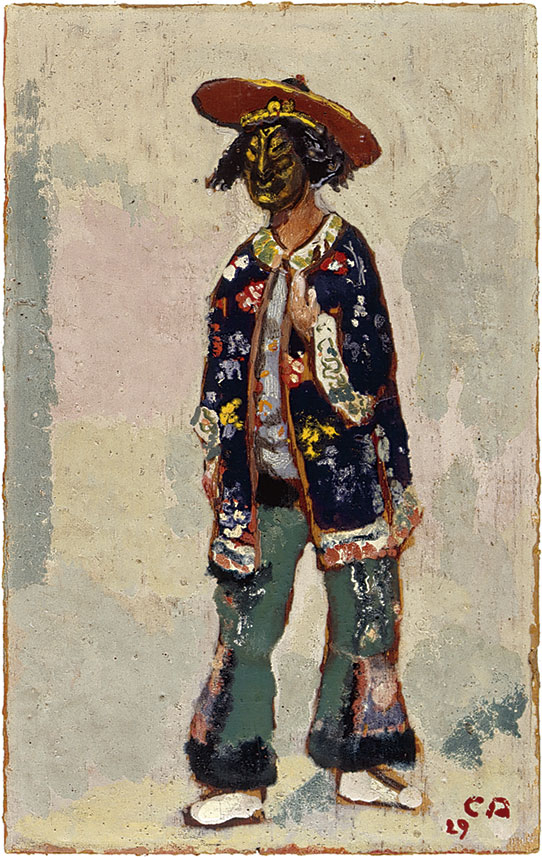 1929
Cuno Amiet, Maske, 1929; the artist's gift to Marianne Im Obersteg. The small painting on wood belongs to a group of Amiet's works with Asian motifs.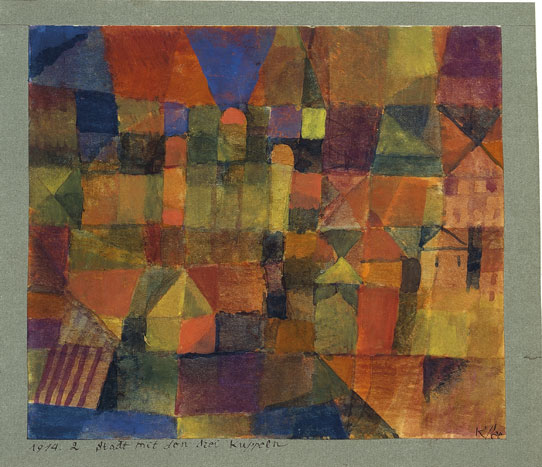 1929
Paul Klee, Stadt mit den drei Kuppeln, 1914; bought at the Galerie Neue Kunst Hans Goltz, München.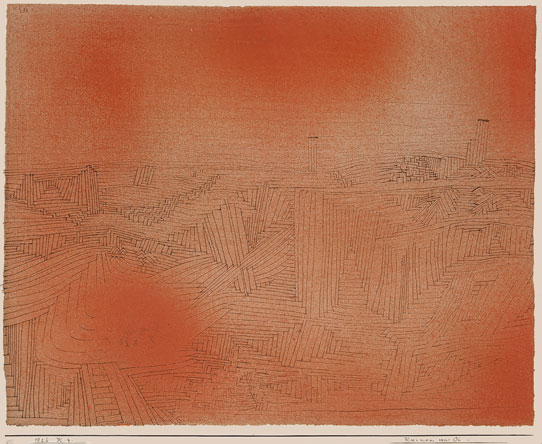 1929
Paul Klee, Ruinen von Oi, 1926; bought at the Galerie Neue Kunst Hans Goltz, München.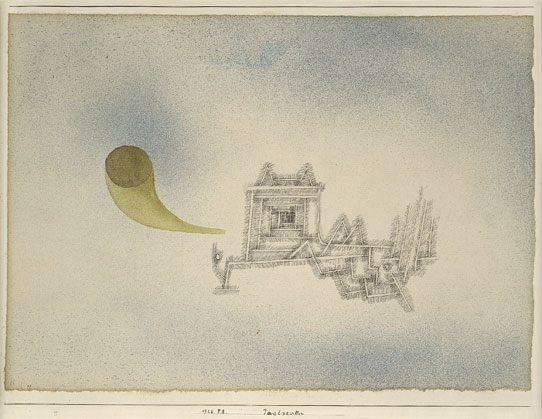 1929
Paul Klee, Jagdpavillon, 1926; bought at the Galerie Neue Kunst Hans Goltz, Munich. Hans Goltz had acquired the sole right to represent Klee from 1919 to 1924. The collector had probably learned to appreciate painting that tends to severe geometry by way of Alexej von Jawlensky, who was a friend of Klee's. Between the two artists, who since 1924 had joined up with Kandinsky and Feininger to found the artists' group "The Blue Four", a repeated exchange of works took place.